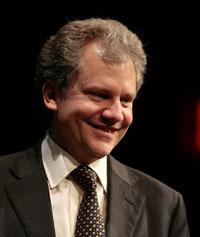 Off the Record this week reported that analysts who track The New York Times Company actually support the work of Arthur Sulzberger, Jr. and Janet Robinson.
"They've done everything right," said Benchmark analyst Ed Atorino.
Well, last night, Citigroup's Catriona Fallon wrote a report for investors about The Times Company and kept her "hold" rating for its stock. She said she still believes that Times stock shouldn't be trading at $7.38 (she thinks it should be somewhere closer to $5.50) but still: They're doing OK.
From the report: 
We believe the company possesses one of the strongest brand names in the newspaper industry and has done the best of all newspaper companies in transferring this mindshare onto the Internet, but the Internet has taken away far more advertising than it has given, with the result that it will be some time before overall business momentum is positive. In addition, NYT has always garnered a premium valuation, one that we do not believe is sustainable in today's environment. However, moves to boost liquidity, including cutting the dividend by 74% and curbing capex spending, make us more sanguine than before.