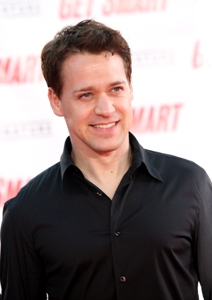 We hope some ambitious key grip is keeping detailed notes about the behind-the-scenes histrionics that take place at Grey's Anatomy on a weekly basis. If it's as crazy as it sounds, a fantastic tell-all book is waiting for us in the future. Last night, the drama surrounding the making of Grey's Anatomy officially superseded the current storyline–and considering that a large component of this year's show has been ghost sex, this was a major coup. Rumors swirled that Grey's Anatomy star T.R. Knight walked off the set and quit the show because he was upset with the direction his character had taken and couldn't deal with it any longer. Almost immediately, a source from inside Grey's Anatomy called the rumors untrue, but was careful to parse the denial by saying that Mr. Knight has never "walked off during shooting", which doesn't necessarily mean he didn't walk off the set after shooting stopped.
To all this we have to say: LOL!
Just to recap… within the last year, Katherine Heigl complained about the poor writing on the show–a complaint which got her the aforementioned ghost sex plot–and has probably gotten herself a one-way ticket out of town if the brain aneurysm/possible death rumors are true; Brooke Smith was fired, possibly because her character was embroiled in a lesbian love affair that ABC executives found a little too touchy-feely; and now there are the issues with Mr. Knight, which seem rooted in some truth, since his character George has become less important to the plot of a Grey's Anatomy episode than Seattle Grace's elevator. While we doubt he actually quit, we're sure the man is unhappy with the program. How could he not be?
At the center of all this is turmoil is creator Shonda Rhimes. Not only has she given ABC increasingly terrible programming each week, her cast is completely out-of-control. To use a sports analogy, she's lost the locker room. When this happened with the New York Mets during the 2008 season, they fired Willie Randolph. We have to wonder if some similar fate lies ahead for Ms. Rhimes. How much more of this can ABC actually take? While Grey's Anatomy has continued to be a ratings force this season, its numbers are down, suggesting the luster has worn off. Would the network remove Ms. Rhimes from her show runner duties on Grey's Anatomy if the ratings dropped precipitously lower? Or will they go with our infinitely more fun suggestion: a reality show about the making of Grey's Anatomy. It would be like Tropic Thunder meets Big Brother, but where none of the actors actually get that they are in on the joke. Think about how awesome that would be!