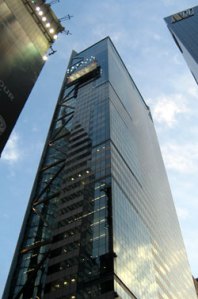 Maybe it's too soon to declare the death of the Manhattan office-space asking rent. But, at the very least, the downward-spiraling economy and the lack of completed deals have rendered the asking rent—that symbol of landlord volition and market domination—an endangered species.
Where once a tenant broker could simply access CoStar to ascertain how much a landlord wanted for one square foot of office space (the common rubric for such things), now landlords and their representatives are exhibiting a remarkable amount of shyness. In place of a bold, declarative statement demanding "$100 per square foot," now a tenant broker is met with weak-kneed messages like "rent negotiable" or "available upon request."
The stats back this up. In the second quarter of 2006, 47 percent of Manhattan office listings quoted asking rents, according to Colliers ABR. Today, only 18 percent of office listings quote asking rents.
"That trend will continue," said Richard Bernstein, vice chairman and principal at Colliers ABR. "Until some appreciable demand returns to the market, [until] we're convinced that there is some absorption of space, and we have the ability to draw a comparison from one space to the next, brokers and landlords will at least momentarily retract asking prices just to see if and when the market settles."
Landlords could look at the few leases inked in November, but that doesn't much help, either, in setting asking rents.
"We've had clients ask us to do market studies and appraisals of what they should pay for a given building, and we can tell them what the last deal was in that building, pre–Lehman Brothers," said David Lebenstein, senior managing director at Colliers. "But if you ask, 'What's the market today?', how can you answer it? It's in free fall. Is it 30 percent less? Maybe. Is it 10 percent less? Surely."
As the November Colliers market report points out, "There were several significant leasing deals signed during the month, however they were generally either renewals (such as the massive 1.3-m-sf Viacom deal) or 'no growth' relocations (particularly law firms and media)."
Just to see how little guidance such deals provide, let's look at the much-heralded Pryor Cashman lease. The entertainment law firm in November announced it would relocate from Eastgate Realty's 410 Park Avenue into 100,000 square feet at Boston Properties' Times Square Tower.
According to sources, when the space first hit the market, the asking rent was $100 a square foot. By mid-November, that asking rent fell to $85 a foot. Sources say the final taking rent was in the $60s-to-$70s range.
In that case, the asking rent clearly followed the market downward. Given that the market continues to decline, how, exactly, is a broker to determine an appropriate asking rent? 
"The market is moving so fast that no one has a good handle on what a rent should be," said Dale Schlather, an executive vice president at Cushman & Wakefield and a tenant rep. "Landlords don't want to lose a tenant, but at the same time, they don't want to under-price. What everyone's saying is, 'Bring me a living, breathing, legitimate offer, and we'll talk about it.'"
Further complicating matters is the growing abundance of sublease space. Bob Stella, executive vice president at CresaPartners, which exclusively represents tenants, pointed out that many tenants hoping to sublet their spaces are forbidden by their leases from listing it below the landlord's asking rents. "Many of those say 'negotiable' or 'competitive,'" Mr. Stella said.
And so the demise of the asking rent.
These days, when a tenant broker calls a landlord rep, the "most common response [tenant reps] get is, 'I don't know. What are you willing to pay?'" said Ted Rotante, a tenant rep and senior managing director at Williams Real Estate.
The poetically minded Richard Warshauer, Williams' senior managing director and rep for landlords and tenants, compared pinpointing asking rents to "gauging the weight of the moon or the depth of the ocean."
"A tenant will call up a landlord's broker or agent and ask what the asking rent is, and they say, 'You tell me,'" Mr. Warshauer continued. "Are rents going down? Positively. By how much? Who knows?"
What does it mean when landlords no longer have the confidence to set an asking rent? Or that, when they do set an asking rent, they make it abundantly clear that the rent is negotiable? 
Mr. Rotante of Williams put it nicely: "The tenant brokers are king in a down market."
drubinstein@observer.com