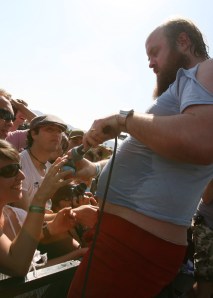 Last night, the Transom ventured out to Varick Street's Chung King studios, where Tim Harrington—the bearded, antic frontman of agit-rock art-band Les Savy Fav—had gathered a group of his friends to film a clip for Pitchfork TV, the video arm of tastemaking music Web site Pitchfork.com. Also a writer and graphic designer, he regularly produces material for the site as part of an ongoing series he named Beardo ("We were going to call it the Tim Harrington Show, but that seemed too weird"). It was a mixer for his mostly unacquainted pals, hence the helpful name tags identifying the musicians, comedians, and "people from the neighborhood" he characterized as his guests. 
Name firmly affixed to our lapel, we introduced ourselves to Andrew WK, whom we found to be—in contrast to his unhinged stage persona—almost unnervingly placid. He shared some grooming tips. Over-washing, it seems, is probably the cause of our admittedly frizzy hair. "You think you need these things, but you don't," he told us, referring to haircare products. He recommended an extended period without shampoo. "I know about it—I've used a lot of extensions, a lot of filler," he explained.
Mr. WK also lamented the lack of student presence at his club, Santo's Party House, which is located across the street from N.Y.U.'s Lafayette dorm. Apparently, the residents generally walk by the dancehall's usually crowded door "like it's not even there."
We suggested that perhaps the N.Y.U. populace, so used to being viewed as the scourge of downtown nightlife, didn't realize they were welcome.
"No, we really want to involve them, that enthusiastic, excited portion of New York. Where do they go—Bleecker Street or whatever?" Hmm. They probably feel wanted already!
Meanwhile, the New Pornographers' A.C. Newman explained that he prided himself on being boring before, eying our voice recorder, he implored, "Don't make me sound like I am." 
Eventually, everyone was corralled from the makeshift smoking lounge into the recording space to film the video, a spoof of Michael Jackson's 1985 "We Are The World" extravaganza (sample lyric: "We're giving cash to all the trust fund kids this year"). It was not exactly a humble self-acknowledgment to line up local New York popular kids as though they were Michael Jackson's all-star cast: there was ubiquitous society truffle-pig Moby, comedian Seth Herzog, LCD Soundsystem's Nancy Whang, Battles guitarist Ian Williams, members of the band Cheeseburger, Okkervil River's Will Sheff, Vice founder Gavin McInnes (whose level of vociferousness seemed rise whenever he put on his white, reflective wayfarers), and Fred Armisen (who ducked out before we could coax him into further insulting the governor)–on a set of bleachers, giving the scene the look of a yearbook photoshoot where the nerdy had been intentionally misdirected to the wrong place. Mr. Harrington–who, at some point, changed into an outfit consisting of a pair of bright red briefs, yellow knee-socks, a white T-shirt, and rainbow striped gloves–acted as the conductor, engaging in some Mick Jagger-style stomping and issuing directives related to the functioning of recording equipment. After a brief battle with the headphones ("Who's hearing nothing?…That's everybody!"), an impending crowd mutiny was quelled with pizza and crates of Bud Light delivered by studio employees, proving that N.Y.U. students might not have been so far out of place after all. 
People scattered as others filed through the main room to film individual takes. Out in the hall, conversation turned, as it does in these social climes, to the trials of becoming the most famous person to emerge from one's hometown.
Mr. Williams (from Johnstown, Penn.) first suggested that Johnny Weissmuller, the original Tarzan, was his most serious competition before remembering that he also had Charles Bronson to contend with. Everyone agreed that Mr. Bronson would be difficult to beat. 
When pressed to name our hometown's most prominent son, we could only cite the members of various jam bands. This answer prompted much teasing of the Transom. 
"I come from the land of jam bands [New Hampshire], and I am pleased to say I never got into jam bands," insisted Mr. Sheff. "Phish and the Dead and all that stuff. Dave Matthews Band! You know some people say, 'I was into this band before they were huge?' I wasn't into them when they were huge, when I was younger, when I thought everything on the radio was good. I had nothing at stake–I wasn't trying to be cool."
It was agreed that nobody liked the the Dave Matthews Band (though Mr. Newman, who throughout the evening was the one most suspicious of that voice recorder, did say that Dave Matthews seems liked a good person). 
Did Moby have discerning taste as a child?
"I wish I could say yes," he said. "But I liked everything when I was growing up. If someone was putting it on the radio when I was nine years old, that meant it was good. Though, there's some music that scared me when I was little because it seemed too grown-up. Like Meatloaf–'Paradise by the Dashboard Light'–because I knew there was something weird and wrong going on there. You know, the Phil Rizzuto part? But literally, from the time I was eight or seven until I became a punk rocker, I liked everything. I was utterly indiscriminate." 
And what about Mr. Harrington?
"Oh, no, I bought everything. My dad really liked Elvis and my gauges were really off. There was a station–maybe the Fordham radio station–and there was show in the evenings that was like homework music, a kids show. Songs that were like 'Fish eyes, fish eyes/Roly poly fish eyes,' like an avant garde band. [Ed. note: We think he means 'Fish Heads.' by Barnes and Barnes] And it was one tune down from WFMU, which plays legitimately avant garde stuff. When I was a kid, I would mistune it and end up listening to some John Cage stuff and like, waiting for the joke."