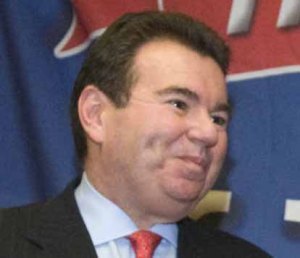 In a memorandum to members of the Bergen County Democratic Organization's Executive Committee, the party's general counsel legally opined that a special meeting can be called for committee members to vote on whether to remove indicted Chairman Joe Ferriero.
This issue has been the subject of much debate within the party, as its own by-laws do not provide for removing a sitting chairman before his term is up, even if he has been indicted. Last week, the executive committee voted for a resolution calling on Ferriero to resign by January 15 if he was not exonerated on all eight corruption counts before then, although members were not sure how to enforce the deadline.
Kaufman's opinion aims to provide for that enforcement.
"The BCDO By-Laws do not restrict the members from replacing its chairman at any time and do not require that cause be demonstrated," wrote Kaufman, who in September became general counsel to replace Dennis Oury, who was indicted along with Ferriero.
Kaufman wrote that the BCDO can call a meeting of the county committee with the object of removing Ferriero. Once a quorum of 50% plus one is reached, the party needs only a simple majority of votes to oust Ferriero (other party members have wondered whether that vote would have required a two-thirds threshold).
Although the 40-member county committee voted for Ferriero's resignation, whether the rest of the county committee will is an open question. It's packed with Ferriero loyalists – some of whom owe their public jobs to the chairman – and easily voted for his reelection this year, 717 to 123.