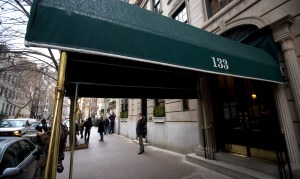 Scheming investor Bernard Madoff, according to David Patrick Columbia, is the the most talked about name among the socials these days. And now, aside from the particulars of his high-profile money cons, Mr. Madoff's beautifying treatments, dining habits, and leasurly activities are also undergoing public scrutiny. 
When former Lehman CEO Dick Fuld went down earlier this fall, we heard about his various residences (Park Avenue, Greenwich, Vermont, Idaho, Florida) and his extensive art collection, which he put up for auction at Christie's. (Just this week, we learned about Kathy Fuld's $10,000 shopping spree at Hermes on three cashmere throws, which she requested to carry out in white, unmarked bags.) Mr. Madoff, it seems, is about to undergo a similar kind of public hanging for his lifestyle. 
According to Bloomberg, Mr. Madoff was a regular of 20 years at Palm, a steak restaurant in East Hampton where he often brought his clients and requested a table in the front. (Film maker Steven Spielberg was also an investor in Mr. Madoff's company.)  
The investor also regularly stopped into a barber shop in Palm Beach for a a $65 haircut, a $40 shave, a $50 pedicure and a $22 manicure. His homes–one in Montauk, Long Island,one in Palm Beach, and a duplex on East 64th Street that he reportedly bought in 1990 for $3.325 million–are also a topic for discussion. Then there is the 55-foot wooden fishing boat that he bought in 1977 for $462,000 and a yacht, built in 1969 by Rybovich & Sons, he named "Bull." No word about a private plane yet, but that will surely come out any day now. Meanwhile, perhaps Ruth Madoff (a co-editor of a cookbook called The Great Chefs of America Cook Kosher containing recipes for kosher dishes by well-known chefs like Daniel Boulud and Wolfgang Puck) should take a cue from Mrs. Fuld and lay off the Hermes cashmere throws for a while.