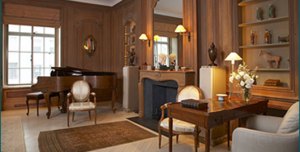 On July 16, Loews Corporation co-chairman Jonathan Tisch, whose father and uncle founded the multibillion-dollar conglomerate, paid a record $48 million for a co-op at the legendarily tyrannical 2 East 67th Street.
Loews' share price hit $44.13 that summer day, and the Dow was over 11,308.
At the end of this Monday, Loews' stock closed at $23.48, and the Dow was around 8,149.
But surely the economic downturn doesn't matter to people at such a high-gated co-op; what matters is that the most recent sale at 2 East 67th (a building so overconfident that its natural Fifth Avenue address is shrugged off) was $48 million, which theoretically means all the neighboring spreads, even the ones on lower floors, could and should fetch something similar, downturns be damned.
Late last month, Brown Harris Stevens broker Kathy Sloane listed the third-story apartment, a few floors below co-op board president Arthur Carter (the former publisher of this newspaper), for $43 million. The monthly maintenance is $12,099, and, of course, the purchase would almost certainly have to be all cash.
According to city records, the apartment belongs to Dr. Athanase Lavidas, the CEO and chairman of the Greek pharmaceutical company Lavipharm Group. Oddly, city records show that the I.R.S. put a $2,661.27 lien against Mr. Lavidas this August, though it's unlikely that anyone in the building could possibly be in difficult financial straits.
Mr. Lavidas, after all, is a man with an 11-room, five-fireplace apartment where the dining room and library and 32.5-foot-long living room all overlook Central Park. According to Ms. Sloane's listing, his place's five (and a half) bathrooms and its eat-in kitchen have been recently renovated by the ultra-proper John Saladino; it's not clear if Mr. Saladino is responsible for putting in the gymnasium and steam room near the master bedroom.
An original floor plan shows only four bedrooms, though the listing says the apartment has five. That means some of the four original maid's rooms (or the servant's hall, not to mention the butler's room) may have been altered.
mabelson@observer.com