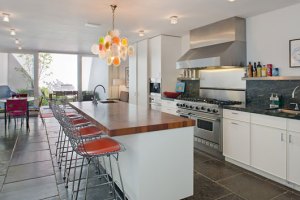 By the time 2008 ends, there will be two kinds of high-end brokers left in New York. Most will outwardly panic, and the sturdier will force their dread to simmer beneath a slightly clenched smile that says, "Everything is quite fine, thank you." After all, a tiny (and dwindling) group of only wealthy people are willing to make real estate deals, at least the kind of big real estate deal that New York prides itself on.
In the past few weeks, The Observer has written about the children of a Texas natural-gas billionaire, a Gulf & Western co-founder, a Berkshire Hathaway billionaire and a Turkish billionaire all buying up Manhattan real estate. Now, according to city records, the excellently named Talbott Lea Simonds, grandson of the elderly Pittsburgh billionaire Henry Hillman—who inherited a steel-and-coke fortune and became an early backer of Kohlberg Kravis Roberts—has bought a $16.5 million townhouse at 69 East 91st Street.
The only thing more depressing than the fact that billionaires' brood are practically the only people buying serious Manhattan real estate right now is the fact that this $16.5 million sale, which would have been a pittance a year ago, was one of November's biggest deals.
The seller, according to city records, is the late Butch Kerzner's family. Kerzner, son of colossal South African gambling magnate Sol Kerzner, was surveying land off the Dominican Republic for resort development two years ago when his helicopter crashed.
A listing with Elliman's Leonard Steinberg and Hervé Senequier says that the five-bedroom house was designed by Annabelle Selldorf, who did the interiors at Philip Johnson's Urban Glass House—where, as these things go, Sol Kerzner reportedly bought his daughter Beverley a $10.5 million penthouse two years ago.
The townhouse has a stucco facade; a garage ("currently housing a BMW X5 with room to spare"); a landscaped garden; a dumbwaiter connecting the parlor floor to the kitchen; a media room/library with a gas fireplace; a full-floor master suite with a fireplace, office, dressing room and gym; and terraced bedrooms on the fourth and sixth floors, plus a roof terrace.
It was bought under the name of an anonymous limited liability corporation, but the billing address on mortgage records is an East 72nd Street co-op that Mr. Simonds and his wife, Elinor Brooks, a fellow Harvard Business School graduate, bought two years ago.
mabelson@observer.com