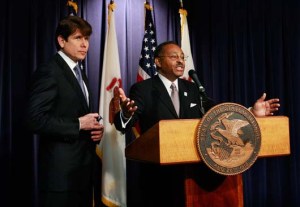 Whatever they say publicly, the major players in Illinois' bizarre Senate vacancy drama, which took another turn on Tuesday with Rod Blagojevich's surprise decision to appoint Roland Burris, are all fueled by motives that have nothing to do with their high-minded pronouncements.
Start with Blagojevich, who in introducing Burris, a 71-year-old former state attorney general who has tried and failed numerous times to win election to higher office, declared: "As governor, I am required to make this appointment. If I don't make this appointment, then the people of Illinois will be deprived of their appropriate voice and vote in the United States Senate."
Blah, blah, blah.
Blagojevich's move, obviously, has everything to do with his own uphill struggle to hold on to his own job as governor, which is currently threatened by an impeachment inquiry and federal prosecutors. In attempting to exercise his appointment powers, Blagojevich is desperately trying to prove to Illinoisans that he remains relevant and effective as governor—that all of the controversy around him hasn't stopped him from doing the people's business.
He's also trying to pick a fight in which, at least theoretically, a sizable chunk of the electorate—which now overwhelmingly reviles him—might side with him. Blagojevich knew full well that announcing a Senate appointee would prompt instant and vociferous opposition from Democratic leaders in Illinois and Washington, who have the ability to keep Blagojevich's pick from ever taking the oath of office. But, he figured, if he could find someone with a solid, ethical reputation, voters might agree that the individual should be seated, creating pressure on those same Democratic leaders to fold their opposition. Thus, Blagojevich would score a political victory.
So he went out and found Burris, who served as attorney general in the early 1990s. Now 71, Burris has said that he would serve only as a caretaker senator and not seek re-election in 2010 – a declaration that will bolster Blagojevich's claim that he is merely trying to make sure Illinoisans are fully represented in the Senate.
That Burris is black is also significant on two fronts for Blagojevich. First, it makes it more likely that black leaders will get behind the appointment (as Chicago Congressman Bobby Rush did almost immediately). This could lead to what for Blagojevich would be a very helpful intra-party alliance with black leaders as he fights for his own survival in Illinois. The governor also had to reason that it would be tougher for party leaders in Washington to block a qualified and respected black appointee, especially one with support from black leaders.
So, essentially, Blagojevich is couching a last-ditch effort to save—or at least extend—his endangered political career as a good-government crusade to provide the public with the representation it deserves.
The other players have their own motives, too.
Burris sees the opening to move up to high-profile office that eluded him his whole career. Besides winning election as state comptroller and attorney general, his political story is one of frustrated ambition. Three times—in 1994, 1998 and 2002—he ran for the Democratic gubernatorial nomination, and three times he lost (including to Blagojevich in '02). He also ran and lost for mayor of Chicago.
Until Blagojevich got jammed up, Burris thought his own political career was over. Now, he has a chance to attain the kind of celebrity he always wanted, but only by selling himself in a way that dovetails with Blagojevich's own needs. Hence Burris' announcement two weeks ago that he'd be interested in serving as a caretaker, a move designed to make himself seem like an elder statesman figure, not another ambitious politician.
Then there are the Democrats who are preparing to fight the pick. In Illinois, Jesse White, the secretary of state, has already said that he'll refuse to certify the appointment. This is elementary politics: Secretaries of state are elected office holders who struggle (often in vain) for publicity, and the Blagojevich scandal offers him a rare opportunity to insert himself into national news. Attracting headlines by standing up to a hated governor with a single-digit approval rating is a no-brainer.
In Washington, meanwhile, Democrats who are vowing not to seat Burris have a different agenda.
"It is truly regrettable that despite requests from all 50 Democratic Senators and public officials throughout Illinois, Governor Blagojevich would take the imprudent step of appointing someone to the United States Senate who would serve under a shadow and be plagued by questions of impropriety," Senate Majority Leader Harry Reid said in a statement today.
The bigger reason that Reid wants no part of this, though, is because Burris' appointment would endanger what would otherwise be a very winnable Senate seat for Democrats in 2010. By taking the seat as a caretaker, Burris would deny another Democrat a two-year head start on the '10 election. Plus, he would serve as a day-to-day reminder to Illinois voters of Blagojevich clear through next year's election, even if the governor has long since stepped aside by then. An electorate that is still thinking about Blagojevich would present a serious problem for whichever Democrat ends up running for the seat.
For Harry Reid, the best scenario in Illinois is for Blagojevich to leave and for the new, untainted Democratic governor to then appoint an equally untainted Democrat to the seat—who would then stand for election in 2010.
It's all just another reminder that politics is interesting not because of what politicians say, but because of why they say it.