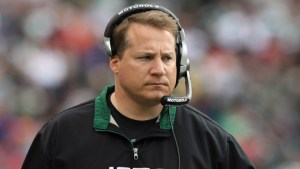 Sunday's 24-17 loss to Chad Pennington, Bill Parcells and the Miami Dolphins saw a bitter and ironic end to perhaps the most disappointing seasons in Jets history. It's tough to tell, of course; there's ample competition for that title. But for a team that jumped out to an 8-3 record on the strength of a 34-14 win over the then-undefeated Tennessee Titans in Nashville, the death spiral seen over the last five weeks will almost certainly carve a special niche.
And now that the Jets are dead, it's time to begin where too many Jets seasons seem to end: with second guesses and prescriptions for better luck in the future.
Getting Favre was the right move. In a results-oriented town like New York, the risks that pay off are branded "genius" while those that don't are castigated. But if yesterday marked Brett Favre's final game in a Jets uniform, then the decision to bring him here deserves a fairer consideration than it figures to receive.
Four and a half months ago, the Jets had a unique opportunity to replace a brittle, underperforming player with the foremost quarterback of his generation. It was a move that the Jets had to make. They had gone to war with Pennington for six seasons, and they had two playoff wins to show for it. It wasn't good enough. Everyone acknowledged that—even Pennington. So after a dismal 2007 campaign that saw him bothered by yet another debilitating injury, Pennington had worn out his welcome here. It was simply time to go, and the opportunity to land Favre merely underscored the need to move on. That Pennington has gone on to outperform Favre this year is largely irrelevant.
What he's done in Miami is no indication of what he would have done in New York. And if any Jets fans find themselves wondering what would have become of this season had the Jets kept Pennington, they need only look at the last six years to have their answer. Last year, Pennington played terribly as captain of an offense with far more talent than the group with which he has enjoyed so much success in Miami.
Even now, with the Jets dead and the Dolphins preparing for a home playoff game, the Jets offensive personnel are clearly superior to that in place for the Dolphins. Were the two teams combined, it seems a fair bet that Jerricho Cotchery and Laveranues Coles would start at wide receiver; Thomas Jones, at running back; Dustin Keller, at tight end.
That Pennington has flourished with also-rans after failing with relative stars is a glaring indictment of the coaching staff; there's simply no other way around it. Offensive coordinator Brian Schottenheimer has gotten less out of more than perhaps any other coordinator in football. He had two good receivers, two Pro Bowl running backs, two Pro Bowl offensive linemen, an excellent young tight end and a Hall of Fame quarterback. There's simply no excuse for what has happened this year. Suggestions that Favre was somehow too old to make it work are nonsense; you don't throw six touchdown passes in a game, beat the Patriots in New England or destroy a 10-0 team on its home field if you don't have it physically. It just didn't work out. And for that, the coach is to blame.
The Jets organization was right to bid adieu to Mangini shortly after the loss to Miami. The team fans witnessed over the last five weeks was not simply bad; it was out of control, even somewhat disinterested at times.
For some reason that may never be known, Eric Mangini lost this team after a landmark win in Tennessee, and he never got it back. What's worse, he never tried. Coordinators Bob Sutton and Brian Schottenheimer needed to be shown the door after a humiliating road loss to the 49ers that saw the Jets fall to 8-5. They had lost two in a row by 10 points or more, and it was plain to everyone that Sutton and Schottenheimer were not getting through to their respective units.
Perhaps it would have been impractical to fire both, but certainly at least one—particularly Sutton—ought to have been shown the door. After all, Eric Mangini's pedigree was in defense. Further, his specialty lay in coaching the secondary, where the Jets were experiencing their greatest problems. It seemed a fairly small leap to suggest that he could replace Sutton without a hitch. If nothing else, a change would have sent a message, putting the team on notice that there was a consequence for failure.
Instead, Mangini did nothing. He was content simply to repeat his tiresome rhetoric about consistency and execution. Now he's gone, and his trust in those around him was his undoing.
Doubtless, Schottenheimer and Sutton were underqualified for their positions and never should have been hired in the first place, but that alone did not doom the Jets. In the end, it was Mangini's failure to place his own stamp on this team that has caused his failure in New York. An NFL season is long and fraught with many unforeseen twists. It calls not only for a calculating tactician but also for a pragmatist, for adaptation, for a coach who can adjust in midstream to address the many different challenges that inevitably arise over the course of five months. Instead, Mangini has been too heavily invested in his own propaganda to make the changes that had to be made to save the Jets.
Credit GM Mike Tannenbaum. The ax that fell on Mangini should spare Tannenbaum, whose offseason moves and deft management of the salary cap gave the Jets a chance to win in 2008. A year ago at this time, as the Jets had just completed a horrific 4-12 season. By all appearances, the team was in store for yet another rebuilding process. Tannenbaum charted a daring course through free agency while engineering several high-profile trades, including the acquisition of Kris Jenkins and Brett Favre. It was a perilous route to be certain and one that few would have taken. The moves worked. They catapulted the Jets from doormats to contenders.
Say goodbye to Favre. Watching Brett Favre in a Jets uniform has been a great thrill for many fans. But as is the case with Mangini, it's time to move on. Although Favre could probably play another season or two in the right circumstances, it seems doubtful that he'd be willing to learn yet another offense in the likely event that Schottenheimer is fired. As has been so well documented over the course of this season, Favre is not keen on changing systems, and if the Jets' offensive system needs anything, it's change. Schottenheimer's San Diego system has been a disaster. The quarterbacks who have left it, whether it's Drew Brees or Chad Pennington, have gone on to perform far better in other places. Besides, Favre will turn 40 next season, and if offseason tests reveal the existence of any damage to his throwing shoulder, his most famous asset may well become a thing of the past.
The Jets have two young quarterbacks in Kellen Clemens and Brett Ratliff. Clemens has been underwhelming in his brief stints as the starter, but he's still just 25 years old. Moreover, it's worth noting that Drew Brees' first two years under Schottenehimer's tutelage saw him manage 28 touchdowns to 31 interceptions en route to being labeled a draft bust. The Jets also have 23-year-old Brett Ratliff, whose considerable size and cannon arm played to rave reviews in the preseason.
It's time to move on. Again.