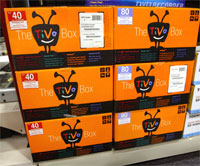 TiVo has taken a step toward building Living Room 2.0 by partnering with Blip.tv, the New York-based online videoblogging and production company. TiVo will distribute shows including Golf Girl TV, a biweekly golf news and gossip segment, Political Lunch, which includes "cold cuts" from the world of politics online, and DadLabs, a funny tips and stories show for fathers.
Advertising Age reports that "4.2 million subscribers, and test whether the genre has legs off the PC."
Here's more from the article:
But do TV-scale audiences await? And will advertisers respond? Andrea Kerr Redniss, managing director at Optimedia, sees the shows as opportunities to do product integrations on the cheap. "What's confusing to advertisers and agencies is the plethora of content out there," she said. "Right now it's difficult to judge one over another and what you'll get out of it."
Top shows can get 1 million to 1.5 million viewers a month, but shows that target desirable demographics can be in business at 30,000 to 50,000 views a month.
Overall, shows distributed by Blip.tv average 55 million views a month, spread across thousands of videos it distributes to Yahoo, MSN, MySpace and iTunes.