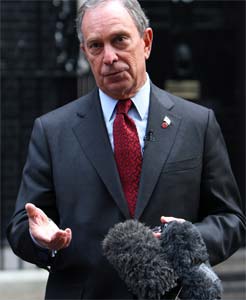 Michael Bloomberg's aides called to cut $1.4 billion from city agencies – and cancel indefinitely the incoming class of 110 firemen.
"Clearly we're in a dire situation," Deputy Mayor Ed Sklyer told reporters in City Hall yesterday. Skyler, surrounded by reporters in the Blue Room, noted that these reductions for Fiscal Year 2010 are based on fiscal projects that haven't been fully accepted yet by the City Council, including the rescinding the $400 homeowners rebate checks, and rescinding a 7 percent property tax cut.
The projections are based on expected decrease in aid from Albany, where state lawmakers are dealing with their own fiscal crisis.
"We're in constant communication with the governor's staff," said Skyler. "We don't know what they'll unveil in December," when the governor proposes his budget.
"We haven't seen what he's going to propose, but it's a safe bet it's not going to be anything that will improve our standing," said Skyler.
At one point, Skyler said bluntly, "The mayor is doing everything he can to restrain city spending." But the City Council hasn't fully embraced his earlier calls for reducing spending.
Some City Council members are suing the mayor to force him to release the rebate checks, and others are saying they should raise the taxes on hotel rooms rather than homeowners properties, since the latter is targeted to out-of-towners.
Skyler didn't comment on the hotel tax, but said the lawsuit over the rebate checks brought a policy issue into an inappropriate venue.
"These types of decisions should not be delegated to the justice system. These are decisions people elect their representatives to make," he said. "The courtroom is not the right place to resolve that dispute. The place to resolve that dispute is City Hall."
One reporter said that it was the mayor who forced the issue into court by not obeying the current law and releasing the money.
"Laws can be negotiated. And they can also be rescinded," said Skyler.