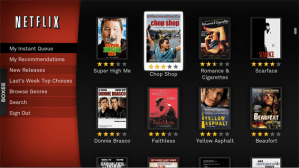 Boxee, the free open-source software that could change your living room experience forever, got busy during the Thanksgiving break and just released a new alpha version, adding Netflix, The WB (Buffy fans, rejoice!), MTVMusic and other features. Boxee users can now play, browse, and queue 'Instant Watch' movies through the application.
In a survey of their alpha users last month, Netflix topped the most-wanted list along with HBO, ABC and Discovery shows. Avner Ronen, Boxee's co-founder, said HBO won't be coming any time soon. "the BIG issue with HBO is that they don't offer full episodes online… :(," he wrote in a blog post. "they are making so much money from the cable companies, that they don't want/can't risk it."
Other updates in the new version include new content like The Boston Globe's Big Picture blog and enhanced, customized Hulu, YouTube, CNN, Flicky and Picasa applications. More information is available here.