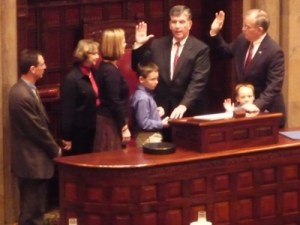 ALBANY—It's Neil Breslin's sixth swearing-in ceremony as a state senator, but he sees it as the first in a new era.
"The chamber has not been presided over by Democrats, except for 1965, since the 1930s. It is my hope that there will be a new degree of fairness," Breslin said in brief remarks in the Senate chamber. "And I hope a new degree of collegiality."
Breslin's ceremony was much more low-key than yesterday's ceremony for Representative Paul Tonko and several assemblymen. He took the oath of office from his older brother, Michael, who is the Albany County executive.