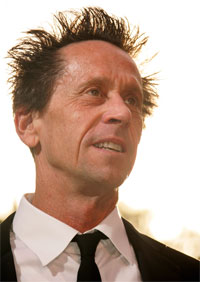 In these bleak economic times, Americans are being forced to give up certain comforts in order to survive. In late November, The New York Times' Stephanie Rosenbloom introduced readers to Kristen Hunt, a Safety Harbor, Florida mom who went without new designer jeans so her kids could have a Walk-In play kitchen. It was the kind of sad but hopeful O. Henry-like story readers have come to expect from the paper that dedicates itself to documenting The Neediest Cases.
Now, according to an interview with the Huffington Post's Katherine Thomson, we learn that producer Brian Grazer has been forced to cut back as well:
Do you still have a cultural attache?
That was sort of a joke title. I've been out meeting different people, I have a record, for 24 years, of meeting someone every two weeks. It helps inform your filter and hopefully informs your taste. I don't have anyone that's doing that for me right now. I use a couple of my assistants and I just say 'hey, can I meet so-and-so' and then we work on it or I'll call them myself, but I don't have a person that does that any longer.
He sounds so brave, but surely Mr. Grazer is feeling the loss of this very vital person in his life.
According to a Talk of the Town story slugged 'Want Ad' from March 10th, 2008 by The New Yorker's Lizzie Widdicombe, Mr. Grazer has employed someone in that role "for twenty years, ever since he asked Jonas Salk's assistant to help him track down interesting people in science."
Mr. Grazer told Ms. Widdicombe at the time, "I'm looking for a person who has that teacherlike quality. … Also, it's good to have a person who is a connector"—paging Malcolm Gladwell!— "who is liked by people."
Sad. It also begs the question: Is Mr. Grazer so hard up he can no longer pay $100,000 'finders fees' for movie ideas? Because then journalists everywhere might feel compelled to seriously nominate him one of the Neediest.