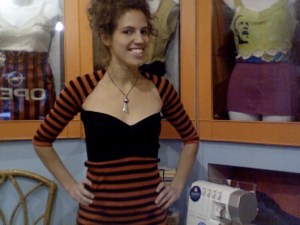 "WE ARE IN A RECESSION!" screamed the words from my in-box back on Nov. 16, and whether it was official yet or not, the wardrobes of Brooklyn's 20-somethings were feeling it.
The email was from my friend Rachel, inviting me to a clothing swap at her Boerum Hill apartment. After listing other monetary commitments, family holiday presents and the cost of living these days, she pondered, "When do we New York women get to treat ourselves with new winter things and fuzzy sweaters and gauzy scarves? Don't we all deserve a little cashmere?"
Perhaps we do.
Last Saturday afternoon, while Borough President Marty Markowitz was across town extolling the virtues of spend, spend, spend for the Shop Brooklyn initiative, I arrived at Rachel's to find a room full of about 10 20-something ladies and a sea of dresses, skirts, jackets and blouses scattered about the bare floor. At one end of the railroad apartment sat a plate of cheese and crackers, brownies and treats. At the other, a wall-length mirror and a group of bustling, partially naked women excited to exchange their unwanted duds for the discards of others. One woman's trash is another's treasure, after all.
"Everyone gets presents!" my friend Melissa said as she greeted me at the door. "Beats spending money I don't have."
I began to lay out my items alongside the others. From my bag emerged two cashmere sweaters from J Crew that were too small; an H&M sweater dress I just wasn't into; a pair of untouched Polo tennis shoes; and a vintage blouse from Levi's, among a few other items. I quickly noticed these items on the backs of my fellow swappers and realized I should probably move a little faster.
I scooped up an olive Max Studio military-style jacket and it fit perfectly. I hadn't anticipated such a great find, so I put it away and kept on searching. Next I came across a silver Armani Exchange dress with a deep V-neck cut; a one-of-a-kind wrap dress by Zachary's Smile; and a pair of blue-striped flats from American Eagle. They all went immediately into my eco-friendly shopping bag. Thanks, ladies!
My friend Julie tried on a stonewashed denim skirt and was checking it out in the mirror. "It's so '80s in the best possible way!" shrieked Rachel, who had taken the liberty of trying on the reject items, including an extra-long baby blue sweatshirt with the imprint of an eagle.
Once the feeding frenzy subsided, we stood around chatting, drinking wine, eating cheese, debating Maureen Dowd's recent column about Tina Fey. As ladies came and went, more items were tried on and scooped up.
"It's such a good idea because no one wants to go shopping anymore," said a young woman named Cara, as she slipped a few of her finds into a bag.


A FEW DAYS AFTER the swap, The Times' Style Section chronicled the embarrassment of spendthrift Upper East Side shoppers, scared to be seen leaving luxury department stores with ball gowns. To that same end, mid-level shoppers who once may have inflated their stylish closet by throwing a few items on the credit card are no longer embarrassed to admit that they actually can't afford a purchase, or would rather save the money.
As the ladies of the upper crust know, to conserve isn't in the best interest of our wardrobes. However, for those of us whose pastures suddenly aren't so green, a swap means realizing that the cute red Nicole Miller dress shortsightedly thrown on your credit card in the good times might inevitably lay wrinkled on the floor of your girlfriend's apartment.
The scary economic forecast is forcing a generation of young Brooklynites used to instant gratification to awaken to the reality of our consumption – not just in the form of personal debt, usually thrown on top of educational debt, but in our moral and social deficit; that the effect of our consumption also has detrimental effects on the climate we pollute and the human rights atrocities that we ignore in sweatshop labor. The economic meltdown is reminding us that trade should be more fair, and that we might need to get our closets in order.
"Think of it as getting new things for Christmas," Rachel's email had said. "And getting rid of all your closet ghosts before the New Year."
Soon, designer Kate Goldwater appeared in the doorway with a bag of goodies. Ms. Goldwater, a 24-year-old Clinton Hill resident, owns the East Village boutique AuH20, where all clothing is handmade in-house by the designer from recycled materials like old T-shirts, slips, ties, vintage dresses, costumes, curtains and other unwanted fabric. This means no sweatshop labor, mass-production, or carbon-dioxide-emitting shipments and an affordable price tag.
"It's so hard to give stuff away," she had said on Saturday, considering all the new forms her unwanted duds could take.
In fact, in the few days since she lugged two huge bags of clothes back to her shop, she has already refashioned a few of the items. "I picked up a red-and-black horizontal striped top that looked overwhelming as is, but I reworked it a little and combined it with a black tank; I think now it looks pretty cool," she said via email a few days later.
"This was like an early Christmas for me – well, early Hanukkah! – because I use recycled clothing for my designs every day. What better material to use than what's already out there?"
Ms. Goldwater, however, didn't cut up everything she picked out on Saturday, including that slimming, red Nicole Miller dress.
"You don't think it's too tight?" she had asked me. Nope, I told her, you look great.