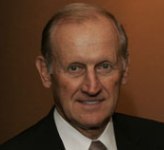 The construction industry's main advocacy group wants the city and state to speed up approval and oversight processes for infrastructure projects in order to attract billions in federal stimulus dollars.
The New York Building Congress today issued a statement outlining steps New York City and State governments should take to better position the region for a windfall in infrastructure spending. The statement comes after President-elect Obama said over the weekend that he was calling for the largest public investment in infrastructure since the creation of the Interstate Highway System in the Eisenhower administration.
Included in the recommendations: fast-tracking projects, speeding up oversight measures, and the creation of a task force to prioritize projects.
"We're talking about serious money," Dick Anderson, president of the Building Congress, told us this morning via telephone "It's going to be in the billions."
He also said that the state and the city should do more than just try to secure money for projects that are ready to go immediately, but rather try to prioritize in favor of the most valuable projects. "The danger is you will pick projects that can be done quickly but may not be the highest priority," he said. "We think the governor and the mayor need to be really careful."
The full policy statement from the Building Congress is here [PDF].