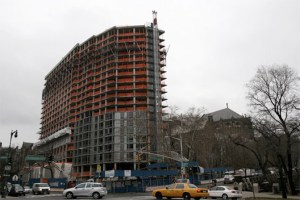 Lots of parallels come to mind when one contemplates the Avalon Morningside Park, a new 20-story monolith capping Columbus Avenue at 110th Street. A vast cruise ship turned on its side, perhaps, or one of Tolkien's Two Towers.
Avalon's leasing office lobby, though, feels more like a design-y take on a dentist's office. Inoffensive music plays overhead, while chairs around a coffee table topped with MM ("Fashion and Lifestyle for Men") and Moves ("Fashion and Lifestyle for Women") sit empty, awaiting residents.
That's what many of the rental building's 296 units have been doing as well, as floors get finished from the bottom up. Since opening for business over the summer, 65 percent of the apartments have been leased–up only marginally from the end of October, when The Times reported that "over 60 percent" of the units had gone. Since then, the leasing office has lured tenants with up to two months free rent, a one-month broker's fee waiver, and free use of amenities like the fully equipped gym.
"Of course, honey, we're in a recession," replied Jackie Sim, the building's leasing agent, when asked whether units had been going more slowly than anticipated. "People are shopping around more."
On a tour through attractively set model units and the building's facilities, Ms. Sim waved at a youngish man in a Columbia sweatshirt, a recent move-in. Many of the new tenants are grad students or visiting professors, she said, picking up where the nearby university's overtaxed housing stock leaves off, with no other big new rental buildings in the area (those along Central Park North are co-ops or condos). Right now, university housing still looks like a steal, with studio apartments in the Avalon starting at $2,695 per month.
Ms. Sim would call the Avalon a "luxury" building rather than "full-service" — in fact, she did slip up a couple of times — if 20 percent of it didn't fall under the city's 80-20 affordable housing guidelines. Developer AvalonBay secured $100 million in tax-exempt bonds to keep 59 units rent-stabilized at "affordable" rates (studios for about $620, $922 for a three-bedroom). Though the apartments aren't quite as swank — Corian countertops instead of granite, for example — AvalonBay won't have problems filling them up: HPD was still inundated with applications for the lottery.
"Everyone applied," said Kelly Garcia, owner of the overstuffed Hardware and Houseware store on 109th and Columbus-including him. "Nobody has said they got in. What I think is they keep it for their own people."
THE AVALON SITS on land leased for 99 years from the Cathedral Church of St. John the Divine, which has been under construction since the end of the 19th century. All eyes turned to the cathedral a few Sundays back, when it reopened its entire 601-foot expanse to great fanfare after a fire ravaged the interior six years ago. Forty-one million in insurance money financed the reconstruction, but $2.5 million in annual rent from the Avalon is expected to keep the Episcopalian institution, which has historically run a $1 million yearly deficit, in the black.
Carolyn Kent, the chair of Community Board 9's Landmarks Committee, led the charge against the deal when it was first proposed in 2003. She faulted the Church for not taking on a capital campaign instead, like Boston's Trinity Church, calling the signing of the agreement with AvalonBay "laziness." And now, she hates the building even more.
"I was so struck with how cheap it looked," she said. "It is a disaster. It is injurious to the greatness of the cathedral."
Carolyn Birden, chair of the 110th Street Block Association, calls it a "monstrosity" and a "desecration."
Business owners, however, have more temporal concerns.
"The Avalon is particularly attractive in that it brings life to the North end of Columbus, which just has been a very slow area," explained Peter Arndtsen, director of the Columbus-Amsterdam Business Improvement District. With Morningside Park to the North, a hill sloping up to the vibrant strips on Amsterdam and faraway Broadway, and Park West Village and Frederick Douglass towers starting at 104th, it's been cut off from much of a customer base.
Plus, the Avalon is "another eye on the street," Mr. Arndtsen said, spreading safety in an area that Columbia undergrads still avoid at night. Eight years ago, he said, the BID had attempted to get a credit union on that corner — but since being located at the intersection of three precincts makes it a hard-to-police area, the NYPD discouraged it. Now, Mr. Arndtsen said the BID may try again.
Of course, at least 80 percent of Avalon residents will have cash to burn-and probably different spending habits than the neighborhood norm. Places like Café A, Mamie Spoonbread, and La Negrita have already started aiming themselves toward the young and hip willing to venture into the Manhattan Valley, while a new French pastry shop just opened on 107th. The other places — the beauty salons, pharmacies and bodegas that occupy most of the rest of the storefronts, many of which lie empty — know they may have to adapt.
"We figure people in that building will have different hours than people who shop here," said Orlando Cuevas, the pharmacist at Town Drug and Surgical. They might be adding a delivery service, maybe expanding hours, along with cleaning the place up a bit. Meanwhile, he said, rumors are circulating about landlords not renewing leases, hoping to sell nearby buildings as property values follow the Avalon skyward.
Polanco Arcadio manages the Blue Mountain Deli Mini Market, which smells like bacon on a Saturday afternoon. His lease is O.K., and he's optimistic since his is the "only place that has a little bit of everything."
"But you know," he says, "Rich people in that building."
Back in the Avalon, Jackie Sim and her assistants were ordering lunch, deciding between a few of the middle-priced establishments up on Amsterdam. For people eating out, they recommend higher-end Bistro 1018, Terrace in the Sky or Le Monde.
Will the Avalon change the neighborhood? "It always does," Ms. Sim answered. "It always does."