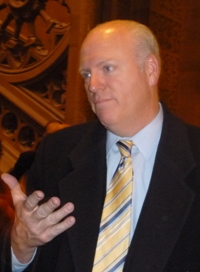 ALBANY—Representative Joe Crowley, the Queens Democratic Party Chairman, said that he had spoken to Caroline Kennedy as she expressed interest in the U.S. Senate seat being vacated by Hillary Clinton.
"It was a very quick phone call," he said. "I always appreciate being reached out to by people who are interested in jobs in the state of New York."
He was asked about her qualifications, and replied, "I don't think she's unqualified."
Asked what role her family ties could play, he said "we're all a product of our upbringing in different ways. Would I be who I am today without my uncle Walter Crowley or without my father? So who knows. I don't begrudge her for that."
Crowley also said that Representatives Steve Israel and Carolyn Maloney have reached out to him. Kennedy also contacted Assembly Speaker Sheldon Silver.
David Paterson – who has the ultimate authority to make the appointment – said he hasn't spoken with Kennedy recently.