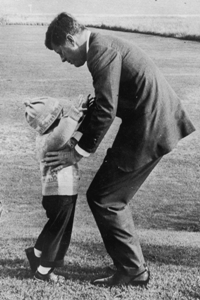 ALBANY—A reader sent along this interview that WNYC's Leonard Lopate conducted with Caroline Kennedy in 2002.
She was talking about an updated edition of Profiles in Courage, the Pulitzer-prize winning book her father penned, when Lopate asked her whether she had any political aspirations (around 7:15 on the tape), noting that John F. Kennedy had been inspired to run for the presidency by writing the original edition:
"Um, well, you know, I don't think this book will work a similar…transformation," Caroline said. "But I really am interested in the issues and I think it's wonderful for people to get involved, people who are in politics find it so rewarding and I think it's a wonderful thing to do. I think everyone should participate as best they can. There are many ways to serve and make things better."