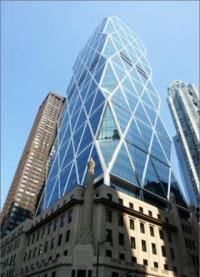 Score!
CB Richard Ellis brokers have secured a victory in the fight to save holiday reveling from the Scrooge-like belt-tighteners atop New York City brokerages.
The firm's retail group has gotten the Hearst Corporation to sponsor what it is dubbing a "holiday celebration" this evening in the Hearst Tower's Sky Lobby. Of course, this isn't just any holiday party. The brokers and Hearst have an ulterior motive: filling that cursed retail space on the ground floor that's sat empty since the Norman Foster-designed tower on Eighth Avenue was completed in 2006.
So it's no coincidence that all party-goers will be forced to enter through and tour the retail space on the first floor in exchange for their free drinks and food. CB Richard Ellis took over the marketing of the space for the Hearst family in October.
Insiders say that Hearst has been unable to secure a tenant because it's unwilling to come to terms with the Eighth Avenue market. Even during the economic boom, the space, said to be marketed at a hefty $400 a square foot, was more attractive to lower-end tenants like Duane Reade, not the Pradas or Guccis that the Hearsts were said to be looking for.
Moreover, the space sits at the corner of a veritable Bermuda Trapezoid of Manhattan real estate. As The Observer reported in October, "A full half of the eight corners of the four-sided shape bounded by Broadway, Eighth Avenue, and the north and south sides of 57th Street have sat empty for at least six months, staring vacantly at passersby with nary a product to sell."
Here's the full release below:
New York, NY – December 8, 2008 – Bringing together retailers and retail professionals, the Hearst Corporation is hosting a holiday celebration at its Hearst Tower sky lobby on Monday, December 8, from 6 to 8 p.m., to coincide with the International Council of Shopping Centers' national conference in Manhattan. The guest list includes representatives from Sur La Table, Barneys New York, Esprit, Tommy Hilfiger, Anthropologie, Coach, Brioni, Chanel, Van Cleef and Arpels, among many others. More than 300 attendees are expected.
"Hearst wanted to bring the community together to celebrate the holidays and the opportunities we have," said Richard Hodos, executive vice president, CBRE, who is marketing the retail in the Hearst Tower with David LaPierre, Steve Sjurset, Janelle Rovegno and William Shanahan, to bring in new tenants.
Guests will enter Hearst Tower through the retail space at 300 West 57th Street, and take a tour of the facilities before entering the sky lobby.
Owned and occupied by media giant Hearst Corporation, the architecturally magnificent and award-winning tower—declared New York City's first green building—sits on an historic base from the original 1928 structure. Redesigned by architect Lord Norman Foster, the new exterior honeycomb of steel allows the interior work areas to remain uncluttered by pillars and walls, providing spectacular views of the city from most work-floor vantage points.
About CB Richard Ellis
CB Richard Ellis Group, Inc. (NYSE:CBG), a Fortune 500 and S&P 500 company headquartered in Los Angeles, is the world's largest commercial real estate services firm (in terms of 2007 revenue). With over 29,000 employees, the Company serves real estate owners, investors and occupiers through more than 300 offices worldwide (excluding affiliate offices). CB Richard Ellis offers strategic advice and execution for property sales and leasing; corporate services; property, facilities and project management; mortgage banking; appraisal and valuation; development services; investment management; and research and consulting. CB Richard Ellis is the only commercial real estate company named one of the 50 "best in class" companies by BusinessWeek, and was also named one of the 100 fastest growing companies by Fortune. Please visit our Web site at www.cbre.com.