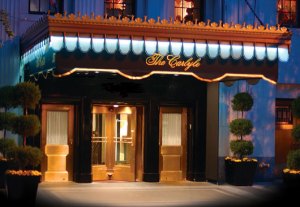 Spend a weekend at the Carlyle Hotel on Madison Avenue and East 76th Street. You have to listen closely.
Bop, bop bop. Bop, bop bop. Around 8:30, Friday night at the Café Carlyle, home of the legendary late lounge singer Bobby Short, the five-piece band was getting the ball rolling for the room's new star, Steve Tyrell. He waited for the right moment, then eased the mike from its cradle.
"The look of love is in your eyes," he sang in a gruff Southern accent. Mr. Tyrell had the look of someone who might have been stout before slimming down. He wore a velvet blazer, starched white shirt and a white polka dot silk scarf. His hair, silvery white, stood up on its own. Two backup singers loomed, a bodacious Asian woman and a lanky black guy with a gray ponytail and an earring.
"Ooooh," sang the lady.
"Woahhh," sang the man.
"Say a little prayer for you!" sang Mr. Tyrell.
A decidedly New York woman at the bar snapped her fingers. Her wrists were adorned with bracelets made of silver balls. More silver balls hung about her neck, and a ball on each ear lobe.
"I'm gonna send this out to my friends Les and Julie, I think you guys are out there somewhere," said Mr. Tyrell, and then worked his way through "This Guy's in Love With You." Next was "Walk on By."
"I haven't heard this in forever," said the silver-ball lady.
>>READ Meredith Bryan on the Fashionable Flock's Quieter Approach to Christmas
The room was dominated by men in suits and ties. A shortish fellow with a thick mustache and coarse, swept-back hair that resembled a shoe brush tapped his gimlet glass with a plastic stir stick. The room looked clean, fancy; $150 for a seat.
"I'm going to sing a song I sung in a movie called Father of the Bride, and it changed my life," said Mr. Tyrell. He said he was going to sing it for Julie Chen, "the most beautiful woman on television. Kim Novak had nothing on you."
"Hey, would you stop flirting with my wife?" joked CBS president Les Moonves.
Later Mr. Tyrell dropped by the table.
"It's a Friday night in December," said Mr. Moonves, "where the economy's bad and restaurants are half-empty—and this room, which is not an inexpensive room, is still packed. I think it's terrific for New York, I think it's terrific for the country, I think it's terrific for the entertainment business."
But as Loston Harris, the pianist and singer at the hotel's Bemelmans Bar, likes to say, the Café is the show but Bemelmans is where it's happening. Before I could get there, I was struck by a fur hat. Renee Karrat, 32, who works at Ralph Lauren, was in the lobby. She had dropped by the bar after dinner to continue celebrating her brother's birthday, but it was too packed. They headed off to drink Champagne at a friend's room at the Hotel at Rivington.
Over at Bemelmans, an elegant old string bean in a tailored blue blazer was huddling with Mr. Harris, speaking in hushed tones. I gathered from Mr. Harris' eyes that the man might have been speaking gibberish.
Scrunched around a two-top were Chris Singerman, 28, a banker with SwedBank, and a couple of friends. The bank had actually just made a few hires. Mr. Singerman had been talking about spending New Year's Eve at Bemelmans, "'cause there's nothing else going on."
"It's between this and seeing My Morning Jacket at Madison Square Garden," said Mr. Singerman, who was swimming in a Carlyle blazer provided at the door. As was his friend Samit Mody, who works in commercial real estate: "You're either treading water, or you're not." They had come on a whim: After a  Christmas party at Bilboquet on East 63rd Street, Cate Candler, 32, an executive at Cole Haan, had suggested they continue the merriment at the Carlyle, a Candler family favorite.
There was hardly any standing room around the bar. A slick-looking fellow and a Botoxed blonde were nuzzling among the camel hair and tweed. Ms. Candler said the holiday spirit appeared to be intact at the Carlyle. But, she cautioned, "people take comfort in going out during the holidays because it feels comfortable."
Was there an added dash of hope in the air?
"I'm hopeful," said Mr. Singerman. "I have hope."