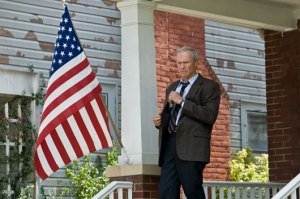 Gran Torino
Running time 116 minutes
Written by Nick Schenk
Directed by Clint Eastwood
Starring Clint Eastwood, Christopher Carley, Bee Vang, Ahney Her
Clint Eastwood's Gran Torino, from a screenplay by Nick Schenk, based on a story by Dave Johannson and Mr. Schenk, caps his career as both a director and an actor with his portrayal of a heroically redeemed bigot of such humanity and luminosity as to exhaust my supply of superlatives. The movie begins with Mr. Eastwood's gloweringly cantankerous retired Polish-American autoworker, Walt Kowalski, presiding over his beloved wife's funeral, and visibly disapproving of everyone in attendance both in the church and at the reception afterward in his Detroit domicile. These include his spoiled but moderately successful sons, their wives and children; his parish priest, Father Janovich (Christopher Carley); and all his Hmong neighbors, who he feels have invaded his once solidly Polish-Irish community. In short, Walt, like many retirees, refuses to accept a changing world on any terms but his own jaundiced view of humanity, and his hostility has not escaped the attention of a Hmong matriarch sitting on the porch next door, who asks him ironically why he has not left the neighborhood with all the other "white people."
But Walt is too stubborn to change his ways or his locale. When his children suggest that he might be happier moving to a retirement community they have chosen for him, he virtually throws them out of the house. However, he soon discovers a new perilous problem in the area, that of emerging ethnically and racially divided disaffected young gang members: Hmong immigrants from Southeast Asia, African-Americans and Latinos. On one occasion, he rescues a cheeky young Hmong girl named Sue Lor (Ahney Her) from a menacing group of African-Americans by flashing a handgun he has kept in his possession since the Korean War—in which he served with distinction, and possesses the medal to prove it.
We learn later that he is still haunted by the memory of a North Korean youth he killed in hand-to-hand combat. Meanwhile, the story shifts to a fatherless Hmong youth, Thao Vang Nor (Bee Vang), living next door, who is being intimidated by a Hmong street gang, to which Thao's cousin belongs, into stealing Walt's 1972 Gran Torino, which he keeps lovingly polished in his garage as a reminder of happier times in his life. When Walt, gun drawn, surprises Thao in the garage, the boy flees in a panic to his home, where he is dominated by his mother and two sisters.
When the gang members come after him, a fight breaks out and spills over to Walt's neatly tended lawn. An outraged Walt springs out of his house with an M-1 rifle in shooting position, causing the gang members to flee and thereby lose face.
Suddenly, Walt is hailed as a hero by his Hmong neighbors, who start bringing him food, drink and plants despite his pleas for them to stop. But when Thao's family sends Thao to Walt's house to apologize for his attempted theft of Walt's Gran Torino, and to offer his free services for a few weeks as an act of contrition, Walt begins to look at his neighbors in a new light. He also strikes up a friendly relationship with Thao's older sister, Sue.
As for Thao, he begins regarding Walt as the father he never had, and the two become friends. Nonetheless, the Hmong gang members resume their raids and other depredations with explosive firepower of their own. The stage is set for Walt's climactic confrontation with this new enemy in his life. In the process, Walt has been transformed into an elderly avenging angel with love in his heart for people of a different color, religion and ethnicity.
Mr. Eastwood worked closely with his writers, Mr. Schenk and Mr. Johannson, who were just starting out in the industry, but also with longtime collaborators like cinematographer Tom Stern; production designer James J. Murakami; editors Joel Cox and Gary D. Roach; costume designer Deborah Hopper; and above all casting director Ellen Chenoweth and her associates, Geoffrey Miclat and Amelia Rasche, who had to scour the country for the film's nonprofessional Hmong performers. The results of all these collaborations add up to a genuinely pioneering production very much worth seeing for the emotional thunderbolt that it is.
asarris@observer.com