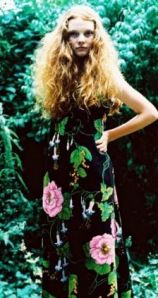 You probably vaguely recall the story of British teenager Jodie Hudson, who was famous for a couple minutes this summer for advertising a really fun, parent-less 16th birthday party at her family's $8.7 million vacation home in Spain on Facebook and Bebo, the result of which was (of course) the destruction of the house. Following the get-together, revelers uploaded photos (underage guests passed out in the wrecked house) and party reports (tales of high school debauchery) to the sites, which were picked up and recycled by a number of British media outlets.
Needless to say, Ms. Hudson's mother, Amanda, was somewhat irritated, but not exactly for the reasons you'd expect. Mrs. Hudson sued six newspapers that had covered the story for defamation and breach of privacy, claiming the material on the websites was false, even though it had been put there by her daughter and her friends. "Teenage conversation has always involved a large amount of embellishment," said her lawyer. "But until recently it has not been communicated in a way that can potentially be accessed by the mass media." The lawsuit seems to have worked, as all the coverage has been scrubbed from the newspapers' websites.
So, that's a story about the possible negative consequences of using social networking sites to invite hundreds of acquaintances to trash your parents' fancy house. Now, here's a potential positive! Two weeks ago, another British 16-year-old, Georgina Hobday, ended up with 400 kids and £5,000 worth of damage at her seafront home in Brighton after touting the event on an open page on Facebook. Her mom was also kind of mad, telling police, "It was an absolute horror show. When I left there was no alcohol in the house." She added: "I'll never have a party for my daughter here again." Downer!
But, actually, not so much. Thanks to the publicity, the Storm modeling agency (home to Kate Moss, Lily Cole, Elle Macpherson, Eva Herzigova and Peaches Geldof) spotted some photos of Ms. Hobday (who, we should mention, is really cute) and is now trying to set her up with a modeling contract. A rep for the agency confirmed the rumor, telling The Daily Mail, "We are looking to get into touch with Georgina Hobday with the intention of putting her on our books…She is a very pretty girl and could well be the next Lily Cole."
The Daily Transom wonders if there is a lesson the youth can learn from all this. How's this: If you're going to have a huge party and wreck your parents' house, it helps to be hot.