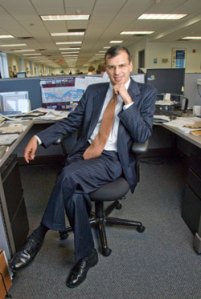 Location: With the Richard Ravitch report scheduled to come out Dec. 5 and the financial state of the Metropolitan Transportation Authority, there's been some buzz about congestion pricing being put back on the table. Do you think there's potential for that, and do you think that would be a good thing?
Mr. Aggarwala: I can't second-guess what the Ravitch report will include, I'm optimistic it'll be good for the city, and, at the end of the day, any thoughtful proposal that fully funds the M.T.A.'s capital needs is good for the city.
 
But do you think that peoples' perspectives around congestion pricing have changed since it went down in the spring?
You know, the bottom line is that the problems that congestion pricing sought to address have not gone away. In fact, they've gotten worse. Over the summer, people were talking about 'Oh, we don't need congestion pricing, the traffic has gone down because oil prices have gone up,' which I think is short-sighted because the $600 million per year we were going to raise for the M.T.A. just went to OPEC. But now that oil prices are going down, you see the first sign that truck sales are picking up again, and people are going to be driving more, and so our traffic will get worse again; and you know as well as I do that the M.T.A. is in an even more troubled condition than it was six or 12 or 18  months ago, when we first came out with the idea.
 
Whatever solution they come up with for the M.T.A., at the moment they're looking at reducing capacity, rather than growing it, which is sort of an integral part of PlaNYC's transit component. Has that made you think differently about how this all can happen?
To a certain degree traffic and ridership always decline during a recession because fewer people are going to work and people tend to shop less. What the current crisis, I think, really highlights is that the way we fund the M.T.A. both on the capital and the operating side needs to be rethought, because the M.T.A.'s operating budget is also so correlated to the kinds of tax revenues that come in from cyclical revenue streams.
If you think about it, the M.T.A. gets the mortgage transfer tax, which goes up when the real estate market is hot, goes down when the real estate market is cold. It gets part of the sales tax, which means as retail sales have declined, the M.T.A.'s revenues decline. This is not a rational way to think about funding a system that is really part of our basic infrastructure. 
 
How else has the economic crisis affected the initiatives that you're working on?
With the stretch-out of the capital budget, some of our projects, some of the parks projects in particular, really have been put into some of the further-out years. We've protected, thus far, some of the investments in city buildings, because they pay for themselves, so it would be short-sighted to say we're going to cut that, and wind up paying more in the next couple of years in terms of energy. We are currently maintaining the schedule for the million trees, just because we just think that's so important, it's such a marquee thing, and in part because some of it comes from private donations, so we have a little bit of flexibility there. 
 
Are there still things about this process that feel elitist to stakeholders who have to be a part of it? Is it tough to persuade people that you're not just building LEED homes for rich people?
A couple of thoughts. The facts show that it's not just about making luxury condos green. You do want luxury condos to be green, but, for example, we just had the first rehab of an affordable housing project, the one in the Bronx [1347 Bristow Street]. We have focused the tree plantings in the Trees for Public Health neighborhoods, where we … prioritize the neighborhoods with the highest childhood asthma hospitalization rates as the places that are going to get trees first. And inevitably, those are the neighborhoods that are less wealthy. If you think about something like power plants, if you make the power production cleaner, that will have a disproportionately beneficial impact on the neighborhoods that have environmental justice issues.
Is it possible to have a grass-roots movement of 8.25 million individuals all signing on to something? Of course not. We try to involve groups as much as we can. There are always going to be people who believe we're not doing enough.