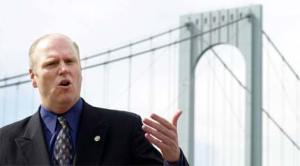 WASHINGTON—Representative Joe Crowley could soon find himself in a leadership battle.
With newly minted House Democratic Caucus vice chair Xavier Becerra widely seen as likely to accept an offer to serve as U.S. trade representative in the Obama White House, Crowley is poised to enter the race to replace Becerra at the Democratic leadership table, sources close to Crowley said Wednesday.
"If Becerra accepts the job and moves into the administration, Crowley's definitely in," said one Democratic aide with knowledge of Crowley's plans.
A Crowley candidacy could set up a battle for the vice chair slot against Florida Congresswoman Debbie Wasserman Schultz, who a spokesman today said was actively considering a bid.
"The congresswoman will continue to work on behalf of the Democratic caucus and is considering a run for vice chair," said Jonathan Beeton, communications director for Wasserman Schultz.
Crowley, a fifth-term congressman from Elmhurst, passed on a run for the vice chair position last month after sitting vice chair John Larson vacated the slot to wage a successful bid for the caucus chair position. Crowley had been urged to run by some of the party's more moderate members. Becerra, however, had the support of House Speaker Nancy Pelosi, a close ally.
Wasserman Schultz is seen as something of an up-and-comer in the House, having served as chief deputy whip in her second term. She has played a key role at the Democratic Congressional Campaign Committee, where she chaired the "Frontline" program to protect vulnerable incumbents.
Despite media reports to the contrary, a spokeswoman for Becerra today declined to say if the eight- term California congressman had received or was mulling an offer from Obama to join his administration.
"There are all kinds of reports out there and they are all rumors," said Becerra spokeswoman Fabiola Rodriguez-Ciampoli.
Aside from Crowley and Wasserman Schultz, there is talk that Florida Congressman Kendrick Meek could join the race for vice chair should the seat open up. Ohio Congresswoman Marcy Kaptur, who lost the vice chairmanship to Becerra in a long shot bid, is also seen as a likely contender.