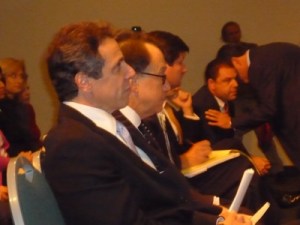 ALBANY—It's a proposal that experts, policy wonks and the governor almost universally agree could save taxpayer money: reducing the number of local governments in New York State.
But after unveiling a legislative program yesterday that would let citizens initiate a referendum to abolish a layer of local government, Andrew Cuomo was asked whether he thought political self-interest–many small villages and special districts are, after all, a valuable source of patronage–would hurt the proposal's chance of passage.
"Yes," he replied. "This is what has impeded progress for 20 years. True."
"I do believe in crisis there is opportunity," he said. "If politicians do not serve the people ultimately, they're not politicians anymore."
Increasingly, people seem to be banking on that. As the same kinds of reforms that have been proposed year after year once again come up, the hope is the severity of the current fiscal crisis–and the game-changing nature of the changes to Wall Street causing this crisis.
But it's unclear how well the state's legislative process will respond to that.
"Obviously no one would be shocked if the status quo holds," said Russ Haven, legislative counsel for the New York Public Interest Research Group. "But at some point, the arguments for change become very compelling and the pressure mounts in a way that it can no longer be ignored."
"There's atmospherics in play that I think make it more likely that we'll get reaction in this climate," he added.
Earlier, David Paterson tried to push a package of $2 billion in spending cuts through the legislature based on the same logic: circumstances are dire. It did not work out. (Somewhat similarly, the auto-industry bailout that many have called necessary for unprecedented times failed in Congress yesterday.)
The legislative package Cuomo outlined in his press conference was nothing new. It was based on the work of a commission led by former lieutenant governor Stan Lundine. Reached by phone at his Jamestown office earlier this week, Lundine said he was hopeful.
"I think that it's possible," he said. "In crisis there's also opportunity, because you can get people to think differently than they would if there was no crisis. Inevitably, the state must cut back."
"There's inevitably going to be cuts, and I don't know how you balance the budget with this enormous deficit without nicking localities and schools," he continued. The estimated savings if the all of his report's recommendations were enacted? One billion dollars a year, Lundine said.
Haven suggested that this proposal might be more palatable than capping property taxes–another unpopular measure the governor supports to help the state bridge the budget deficit.
But notably, no legislative leaders were present at this Cuomo's announcement. Asked about it, Cuomo said, "We've been speaking to legislators on both sides."
With the State Senate in such flux, there are few legislators in a position to take up the issue–a point Cuomo joked about.
A spokesman for current (departing?) State Senate Majority Leader Dean Skelos said, "We will take a very close look at the attorney general's recommendations."
A spokesperson for Assembly Speaker Sheldon Silver did not immediately return calls seeking comment.