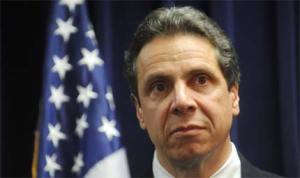 ALBANY—David Paterson was joined by Attorney General Andrew Cuomo as he reiterated disappointment and outrage that a list of seven potential nominees to become chief judge of the state's highest court included no women.
"The process has to be called into question," Paterson said. "All we're saying is, it seems highly unusual that in a class of seven individuals considered to be capable of supervising the Court of Appeals, not one of them would be a woman. Not one!"
Paterson said he had directed Cuomo to "look at my options" related to the appointment process. "Can the commission add to the list? I'm not sure that it can, and that's what I've asked the attorney general to look into."
Several Democratic state senators – the Senate confirms Paterson's appointment – have said they're not happy with the lack of diversity. More joined that call today.
But for all the posturing, action seems unlikely. Paterson is constitutionally obligated to appoint someone to fill the vacancy within 15 days of a judge's retirement – in the case of retiring Judge Judith Kaye, who was forced to retire because she turned 70, that would be between January 1 and January 15, according to Peter Kiernan, counsel for the governor.
Kiernan was asked, then, if the governor intended to appoint from the current list.
"He said he's going to adhere to the constitution," Kiernan replied, saying he assumed that meant yes. "He wanted to call attention to the flawed process."
A counsel to the judicial nominating commission – which is composed of 12 people appointed by the governor, chief judge and legislative leaders – said yesterday that its proceedings are confidential, but that its "record speaks for itself."