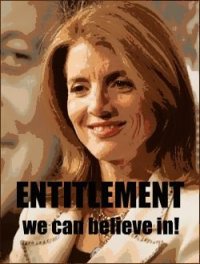 ALBANY—You may have seen this site in your friend's away status at least once in the last year. Well, the creators of a new page – patersonisyournewtax.com – kind of hope to do the mirror image of what the Obama-enthusiast sites did, encouraging displeasure and outrage with the cornucopia of fees proposed by David Paterson in his 2009 budget.
Everything from midgets to Splenda packets to your mom is at risk, apparently.
Someone started a Facebook group to fight the proposal to tax non-diet soda and other sugary drinks, but it has just two members.
A different group lobbying Paterson to appoint Caroline Kennedy has 1,100 members. (Her cousin Bobby's group has 396 members.) A Caroline for Senate web page has been set up, funded by "a couple of Democratic activists," with a link to an online petition and the Facebook group.
There's an anti-Caroline group out there as well, but if we judge based on the number of members, the virus has yet to spread.