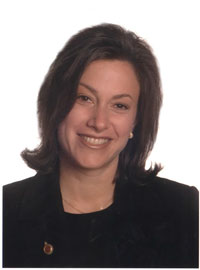 Denise Warren, an advertising chief at The New York Times and a 20-year-veteran at the Times Company, is replacing Vivian Schiller who left for NPR as the general manager of the paper's Web site.
In addition, publisher Arthur Sulzberger, Jr. announced today that there would be some reshuffling at The Times' Web page that will allow for "even faster" growth.
First, here's the announcement for Ms. Warren written by Times Company executive Martin Nisenholtz:
I am delighted to announce that Denise Warren, senior vice president and chief advertising officer for The New York Times Media Group, will take on the additional role of general manager for NYTimes.com, effective today.
Denise is exactly the right person for the job. During her 20-year career
at the Times Company, she has developed a deep knowledge of our core values and purpose. She's demonstrated a keen ability to work across all the necessary teams that make the Web site tick every day. And in her role as chief advertising officer for the Group, Denise has been responsible for financial results that have far exceeded industry benchmarks in the very important area of online display sales.
Denise is an exceptional leader and manager. She has a strong strategic sense, a real ability to move the ball forward and to rally teams to achieve outstanding results. These attributes are perfect for the very difficult financial climate that we're facing. We should have no doubt that Denise will continue to bring heightened urgency to the revenue side
of our operation, while she and her colleagues also remain focused on the long-term vision to extend The Times's leadership position online, both in terms of audience growth and engagement.
Denise is fortunate to have a first-rate team at her side. Marc Frons, our vice president and CTO, will continue to manage the product and technology groups, reporting jointly to Denise and Jon Landman, deputy managing editor. Marc has done an outstanding job in building and transforming our engineering and product development and management capabilities. Eliot Pierce, vice president, operations and strategy, will continue to manage
our digital strategy and business development efforts. Eliot has done a great job diversifying our revenue mix and building a range of key relationships. Dan Sherlock, our new president of Baseline StudioSystems, will report to Denise as they build even greater connectivity between Baseline and NYTimes.com's strong position in entertainment. Murray Gaylord, vice president, marketing, will report jointly to Denise and Yasmin Namini, senior vice president, marketing and circulation.
Denise is assuming this role at a critical time in our history. As The New York Times Media Group continues to rebalance its mix of assets, and as NYTimes.com becomes an increasingly important part of that mix, I'm confident that we have a strong business-side leader who will take the site to its next level of growth.
Please congratulate Denise on her new responsibilities.
And here is Mr. Sulzberger's on the new look staff for nytimes.com:
Colleagues,
Earlier today we announced the new role Denise Warren will be playing in building our digital future. This is an exciting move, as Martin Nisenholtz has noted in an earlier e-mail, but it's only a part of a broader series of changes we're making in the structure of NYTimes.com to ensure greater integration, alignment, speed and surety.
Denise also will be part of a new business/news operating group for NYTimes.com under Martin's leadership to manage budget, strategic and policy issues for our Web operations. Jon Landman will be the newsroom's representative in that group and Carla Robbins will represent the editorial department. Jon and Carla, will of course, continue to report to Bill
Keller and Andy Rosenthal.
The purpose of this tighter, new group is to move the Web site forward even faster, as we continue to roll out new products and align those products with the increasingly diverse needs of our readers and advertisers in this country and around the world.
We began this process in 2005 when we integrated the news and advertising departments in the paper with their counterparts at the Web site. We sought to create an organization with the skills and competencies needed to take full advantage of the journalistic and financial potential of the Internet. We knew this required developing breakthrough products, new opportunities for interaction with our site and better ways for our advertisers to speak to their best customers.
We did this all and more. Embracing a new way of operating has made a significant difference. Three years later our audience has roughly tripled in size; we are now nearly twice as large as the next nearest newspaper-owned Web site, and we've amassed the Web's most influential audience. These achievements can be attributed to our ability to create exciting new forms of Web journalism, introduce new applications like TimesPeople and Times Extra and offer a more compelling user experience
with an impressive range of multimedia applications. All this innovation has made a significant contribution to our bottom line, as NYTimes.com's advertising revenue continues to grow — almost 20 percent through October.
Let me express my deep gratitude to all who have contributed to our considerable online success. With your dedication and innumerable contributions, NYTimes.com will become an even more integral part of our future.