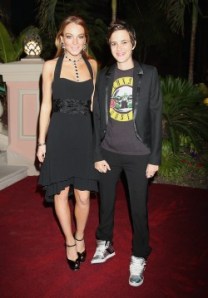 According to the Los Angeles Times, celebrity DJ Samantha Ronson is engaged in an unfortunate lawsuit with a lawyer she hired last year to protect her against the vicious things that blogs were writing about her alleged relationship with Lindsay Lohan.
At the time, Ms. Ronson wanted to file a defamation suit against blogger Perez Hilton, who called her "lezbot DJ" and suggested that the cocaine found in Ms. Lohan's car when she drove into some shrubs in Beverly Hills in May of 2007 belonged to Ms. Ronson. Ms. Ronson reached out to New York lawyer Martin Garbus, 72, who has represented a host of high-profile celebrity clients over his five decades in the business like Andrei Sakharov, Samuel Beckett, Andy Warhol, Allen Ginsberg, Spike Lee, Salman Rushdie, and Don Imus. 
But then the two parties had a falling out. Ms. Ronson is suing her former lawyer for malpractice; he is counter-suing to recover his fees. And somewhere amidst all this Ms. Ronson lost out in her defamation lawsuit to Mr. Hilton and had to write him a check of $85,000 to cover his legal fees.  
A trial is scheduled for May in Los Angeles. But some say the legal proceedings will hurt Ms. Ronson's reputation more than they will her former lawyer. Mr. Garbus' attorneys are using Ms. Lohan as a witness in the case and have requested information regarding the two women's relationship, finances, drug use, alleged rehab stays, and even copies of text messages and emails between the women for the past two years.
And meanwhile, Mr. Garbus isn't concerned about how he comes off the press. 
"I'm not part of that world," he told the LAT about the kind of celebrity journalism that will inevitable emerge as each detail leaks out. "I'm very detached from it."