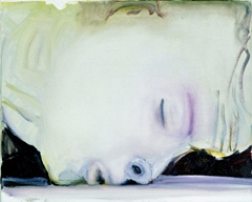 In the Times today, a little bloodletting. Roberta Smith reviews the Marlene Dumas show that opens at MoMA thsi weekend following a stop at the Museum of Contemporary Art, in Los Angeles, where it originated. Of the South African born artist, whose paintings of pallid faces and bodies in hues of Zombie purple, blue and black, are especially prized among contemporary art collectors (Dumas was, briefly, the record holder for the most expensive living woman artist at auction), Smith writes:
The figurative painter Marlene Dumas has been characterized as an artist who leaves you either hot or cold, but that's not necessarily so. "Marlene Dumas: Measuring Your Own Grave," a midcareer survey at the Museum of Modern Art, cuts right down the middle. It left me warm.
Ms. Dumas's work tends to aim for the solar plexus, as the show's morbid title suggests. Fusing the political and the painterly, it grapples with the complexities of image making, the human soul, sexuality, the beauty of art, the masculinity of traditional painting, the ugliness of social oppression. How much it delivers on these scores is a question that this exhibition doesn't quite answer.
The show suggests that while this amply talented artist has created some riveting images, her work becomes monotonous and obvious when seen in bulk. She has not substantially varied her subjects or her habit of basing her images on photographs in about 25 years. And when you stand in front of her paintings, far too many other photo-dependent artists come to mind for the pictures to qualify as original. Her work tends too much toward well-done pastiches of ideas and tactics from the last 25 years, primarily Conceptualism, appropriation art and Neo-Expressionism.
You don't read many pans of MoMA shows in the "Arts" section. The Times roster, with the exception of Michael Kimmelman, tend to wrap their sentences in "maybe" and "tends too much toward" when it comes to big museum shows, thereby blurring the critical line. Considered in such a context, Smith's piece may therefore qualify as a pan.