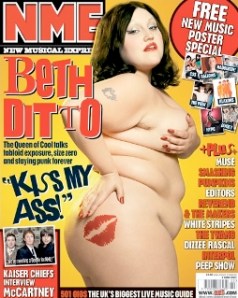 That's precisely the question Guardian music blogger Priya Elan asks in his today's post. Elan points to Juliana Hatfield's admission last month to a treatment facility for anorexia (about which she blogged in heart-rending detail), and all the flack that both Kaiser Chiefs frontman Ricky Wilson and Beth Ditto have gotten for their weight (Ditto specifically for her infamous NME cover). And then there's Caleb Followill of Kings of Leon, who less than two weeks ago admitted to Q magazine that he struggled with anorexia as a teenager. The singer was obsessed with exercising and often went running in blinding heat while wearing a heavy tracksuit. When Followill had to sit still, he'd drink endless amounts of coffee just to distract himself from eating.
Of course, skinny indie rockers are nothing new. Nor is it surprising that a musical genre might align itself with a certain body type. (What would metal be like without guys that looked like this?) What's troubling is that more and more of them are making news for actually being sick. One can't help but wonder who's next….
It bears remembering, though, that not everyone with a jangly guitar looks likes like an amphetamine-crazed Lou Reed. For every Followill or Russell Lissack (of Bloc Party), indie rock has its Win Butlers and Colin Meloys—both guys who look like they eat their meat and potatoes. An honest conversation needs to be had, certainly. But the skinny-jeans jokes have gotten a bit old.