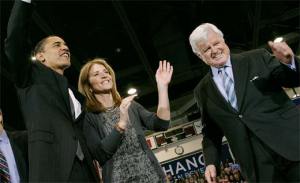 Senator Robert Menendez, who now heads the Democratic Senatorial Campaign Committee, has reached out to Caroline Kennedy to gauge her interest in filling the empty seat Hillary Clinton will leave when she joins the Obama administration as secretary of state, according to one Democrat familiar with the negotiations.
According to the source, Menendez and Kennedy (who is traveling) have yet to connect, but they are expected to do so imminently. The source also said Menendez is favorably inclined to the idea of Kennedy filling Clinton's seat, which was once occupied by her uncle Robert F. Kennedy, because he believes she has the capacity to tap into an extended network of influential and wealthy Democrats to raise money for a re-election campaign in 2010, and then again in 2012. If Kennedy were appointed, her candidacy would not be a burden on the DSCC, which is particularly important because New York is an extremely expensive media market, where campaigning costs millions.
David Paterson has already spoken with Kennedy about the Senate job, according to The New York Times.
Worth noting, and perhaps meaningful, is the fact that Paterson's former chief of staff and right hand man, Charles O'Byrne, is extremely close to the Kennedy family, though he was forced to resign from the Paterson administration recently because of a tax scandal. O'Byrne became a confidant of the Kennedys after befriending Stephen Smith Jr., the nephew of John F. Kennedy, in law school. When John F. Kennedy Jr. died in a plane crash in 1999, O'Byrne, who by then had become a Jesuit priest, led mourners in a funeral mass. O'Byrne has since left the priesthood and become a power player in New York State politics. There is much speculation that he is acting as the liaison between Kennedy and Paterson, who will appoint Clinton's successor.