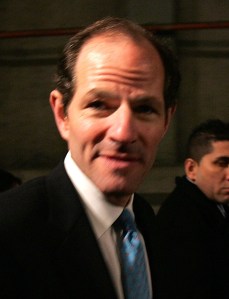 In her Christmas-themed column today, Cindy Adams lists memorable Christmas moments from celebs like Hugh Grant, Morgan Freeman, and rapper Ja Rule, who, it turns out, grew up a Jehovah's Witness.
Also mentioned is former governor Eliot Spitzer, who, as part of his holiday week, ventured out to see Arthur Miller's All My Sons starring a certain actress named Katie Holmes. Ms. Adams relays an exchange in which a theater-goer approached the former governor and said, "Wow, you must think this is a really great show if you would dare to make a public appearance like this."
Mr. Spitzer's response: "Yeah, well, this may be the best show I've ever seen."
We can't tell whether he meant that in earnest, but at any rate Mr. Spitzer seems to have ways of dealing with people who quip the obvious to him as he pursues his decidedly nonhermitlike existence post-Ashley.
When he walked into Slate's recent holiday party at Happy Endings, he asked for Slate editor Jacob Weisberg right away. John Gapper, a chief business commentator of the Financial Times, pointed him in the direction of a tightly packed crowd. (Mr. Gapper wrote about the interaction on his blog.)
"Don't worry," Mr Spitzer replied. "I've got sharp elbows."
Later, Mr. Gapper approached Mr. Spitzer and asked how he was enjoying his new life as a columnist for the online magazine.
"It sucks," Mr. Spitzer said. "I used to be governor of New York."