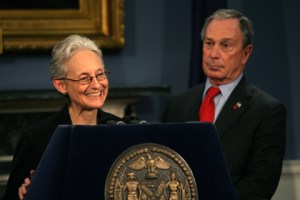 According to Glenn Thrush, either Andrew Cuomo actually likes the idea of Caroline Kennedy as senator, or has found an easy way to back out of the race.
Michael Bloomberg doesn't know if Kevin Sheekey is making calls for Kennedy in his "private time."
Kennedy began to make the case for herself in Rochester this afternoon.
Ben revisits David Paterson's unpredictable nature in light of his upcoming Senate appointment.
Lilliam Barrios-Paoli, who clashed with Rudy Giuliani when he was mayor, has been appointed the new commissioner for aging.
Public advocate candidate Norman Siegel is making noise about firehouses slated to close.
Proposed reforms to the Empire Zones program could spell trouble for a big upstate economic development project.
Pro-life pastor Rick Warren, and less controversially, Aretha Franklin, will participate in Obama's inauguration.
The chair of the Commission on Judicial Nominations wrote a letter to Paterson with further explanation of the process.
Joe Lieberman's approval rating is at 38-54, his lowest ever.
Time magazine welcomes Obama as Man of the Year with a slideshow of photographs from when he was in college.

Republican Ray LaHood is reportedly Obama's choice for transportation secretary.
Lynn Sweet calls him Obama's "favorite Republican."
Marc Ambinder thinks this is probably the low point of Rahm Emanuel's power. In other words, it's going to get much greater.
Ponzi schemester and Democratic donor Bernard Madoff has been placed under house arrest.
Also, it turns out that Madoff's expensive D.C. lobbyists spent a lot of their time trying to influence market regulation.
Ken Salazar is still in his cowboy hat, bless him.