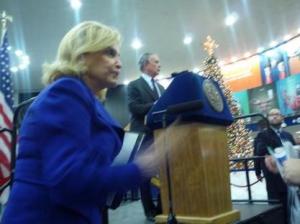 As if more evidence were needed, a new report shows state budgets in terrible shape.
Steve Israel writes in favor of federal government aid for states, which he says will offset massive cuts.
At an event in the Hudson Valley, Chuck Schumer said the new stimulus package could bring millions for construction projects.
State Republican Party chair Joe Mondello, not surprisingly, is not totally approving of the governor's budget plan.
John Riley smells a tax hike.
Tom Wrobleski does too.
Caroline Kennedy has truly made a lot of phone calls today.
Louise Slaughter, after the call, has only good things to say.
Illinois officials formed an impeachment committee. Phew.
Jay Carney will be Joe Biden's press secretary.
Jackie Mason calls Bloomberg "one of the great frauds of all time."
Dana Goldstein thinks Adolfo Carrion's record on urban planning is mixed.
The Hill's headline: "Fossella Ties Himself to Bloomberg."
Larry Littlefield predicts defaults on bond payments.