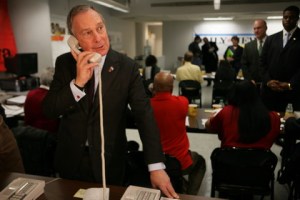 "If you shop, drive or drink in New York, Gov. David Paterson's proposed budget is not for you," writes the Times Herald-Record.
It is also not for the Working Families Party.
And Neighborhood Retail Alliance weighs in with opposition to Paterson's expansion of the bottle bill.
Westchester County Executive Andrew Spano offers (so far rare) praise for the plan.
Diane Savino is also trying to be positive.
More from Eliot Spitzer's Slate holiday party: Silda edits his columns.
Frank Lautenberg's foundation appears to have suffered large losses in the Bernie Madoff affair.
John Riley suggests that the reason Hillary Clinton could get away with running for Senate with little experience is because "she exuded wonk/pol," which Caroline Kennedy, he thinks, does not.
Harry Reid reportedly called Paterson to push Kennedy for Senate.
John Del Cecato, who worked on Andrew Cuomo's 2006 race, is now helping Kennedy.
City Hall News does it's duty and floats a few names for Clinton's seat, including John Edwards and Jay Leno.
On Staten Island, BoroughVoter has video from a forum that hosted candidates looking to replace Mike McMahon in the City Council.
Among the 352 weapons recovered on Staten Island through Bloomberg's cash-for-guns program were a pink rifle and and an AK-47.
Geraldine Ferraro endorsed Melinda Katz for comptroller.
A Rochester blogger finds reason to praise the state's environmental cleanup efforts.
Mitchell Moss, at least, feels bullish about the New York economy.
Here's Dana Perino's Iraqi shoe-related black eye.
The Fed cut the interest rate to basically nothing.
Denver mayor John Hickenlooper is considered a top candidate for interior department nominee Ken Salazar's Senate seat.