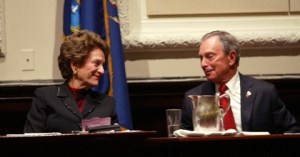 John Riley is not buying Malcolm Smith's spin about the failed State Senate leadership deal.
In an interview with Irene Liu, Smith said he both that he has the votes to be majority leader, and also that he's fine with winding up in the minority again.
Robert Harding, who suggested Smith dump the Gang of Three a few days ago, approves.
Now rebel Pedro Espada says Smith should be overthrown, and furthermore, that he's a liar!
Forest City Enterprises is halting all development projects–but not Atlantic Yards, they say.
Michael Bloomberg called for an addition seven percent in budget cuts from city agencies, in part because the state's finances are much worse than the city's.
Anthony Weiner may be less visible, but he promises he's still running for mayor.
All Things Buffalo laments the pace of waterfront development.
U.S. Senate Democrats are asking Rod Blagojevich to step down, and to please not appoint someone to Barack Obama's seat. (Technically, Blagojevich still can.)
And much to the disappointment of many Republicans, Louisiana governor Bobby Jindal is not running for president. Right now.