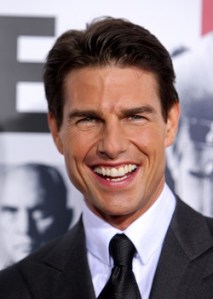 When two-year-old Suri Cruise arrived to the Berlin set of her father's latest film, Valkyrie, she was confused by his austere military uniform and menacing eye patch.
"Suri would always be in the trailer with me, trying to pull it off," Tom Cruise said excitedly at the New York premiere of the film at Time Warner Center on Dec. 15, where he arrived without wife, Katie Holmes, on his arm. (It was rumored that the red carpet was held indoors in order to avoid Scientology protesters.)  "So the girls in the make-up trailer got this little teddy bear with an eye-patch so that she would play with it and get used to the patch on the bear and on me."
In the film, Mr. Cruise plays Colonel Claus von Stauffenberg, a German army officer who led the failed July 20, 1944 plot to assassinate Adolf Hitler. But rumors about the film's delayed release (it was originally scheduled for June 27, 2008) have referenced everything from German officials protesting the making of the film and problems with the budget to fatal injuries experienced on set.
"The only time I had a sense of all that stuff is when I'd go home to London and people would say, 'What have you been up to?' and I'd say 'I've been in Berlin on set with Tom Cruise,'" said British actor Bill Nighy, who plays General Friedrich Olbricht. From there on the conversation would go something like this, according to Mr. Nighy:
"Oh my God, are you okay?"
"Well, yes. I'm fine," Mr. Nye would reply.
"What about all that stuff?"
"What stuff?"
"What about the guy who died?
"What guy?"
"There was a guy, a guy who died!"
"No guy died. I assure you, no guy died."
"And didn't the government try to close it down?
"No, no. The government did not try to shut anything down."
"The Germans were actually very supportive once they understood that that we weren't trying to belittle this story into some Top Gun kind of movie," clarified John Ottman, the editor, composer, and co-producer of the film.  
"It was just a complicated film to put together and 98 percent of stuff you read on the internet is not true," he continued. "It was a film that got bigger from the original concept. A lot of the scenes that we originally wanted to shoot, we decided not to shoot at some point to save some money, but then we ultimately decided to shoot them. Everyone said, 'Oh, they're re-shooting all these scenes.' But that was just not true."
As for any injuries sustained during filming, there was one person—of the 11 injured—who required hospitalization after a side panel of a truck they were riding in broke. But there was plenty of room for other scares given Mr. Cruise's typical on-set antics.
"After we were done shooting inside of an airplane, an old 70-year-old German junker–a sort of flying school bus–Tom took control of the plane and took it into a full wingover about 200 feet over the trees," recalled director Bryan Singer (Superman films, The Usual Suspects). "It was wild. It was also our young actor Jamie Parker's first day. I think he was shocked."
Dutch actress Carice van Houten, who plays Mr. Cruise's wife in the film, had only kind words to say about her co-star. "He's a dream colleague," she told Daily Transom. "He was very nice to me, very supportive, and very sweet. He spoiled me and made me feel wanted and safe, which is good for an actor I think."
And despite German politicians' initial hesitation about allowing the film to be made–due to Mr. Cruise's involvement with Scientology and how their country's history would be portrayed–things seemed to eventually work out.
"This is a special part of Germany's history and it's not a very glorious part," said Thomas Kretschmann, one of the German actors in the film. "It was very good to see that Hollywood came along and wanted to do a film to show that not all Germans were the same and that there are in fact people who stood up and fought for their beliefs."
During filming, which took place over the course of about six months, a few of the British and American actors even learned some German.
"I learned one word!" Mr. Ottman said. "It's so terrible and American of me, but I learned 'Tschuss,' which means, like, bye or see you later."
Mr. Nighy picked up the sort of German that could be more useful. "I can probably order an omelet," he said. "That's all I really need."