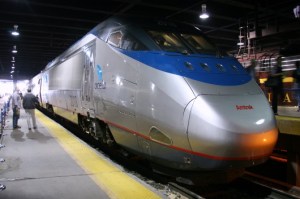 Come Monday, the U.S. Department of Transportation is expected to announce it is soliciting bids for a Euro-style high-speed rail that could connect New York and Washington, D.C., in a two-hour trip, an intriguing, if highly unlikely and expensive, proposal.
U.S. DOT sent out an advisory today noting that it was holding an event to make an announcement at Penn Station Monday (U.S. DOT Secretary Mary Peters, Mayor Bloomberg, and Representative Carolyn Maloney are listed as attendees), and a congressional aide with knowledge of the event filled me in on the subject matter.
The bids are expected to be solicited via a request for proposals, an initiative that was included in a reauthorization bill for Amtrak passed earlier this year.
The idea, championed by Representative John Mica (the Florida infrastructure-loving Republican who I briefly spoke with this summer in St. Paul), envisions the private sector building and operating the line, which would undoubtedly cost many, many billions to build. Amtrak's Acela runs trips at about 2 hours 45 minutes, but can't go that much faster as the route is marked by curves. Mr. Mica said in August that the Amtrak lines have plenty of value themselves that could be better utilized if a high-speed corridor was built, and the Northeast's aviation congestion problem would be solved, but noted that "it'll cost probably $30 to $40 billion."
Given the economy, one wonders how much enthusiasm such a proposal will have among private investors these days, especially given that transportation experts tend to be dubious that the high-speed line would ever get funded or built.
Noticeably absent from the event was New York City's railroad-loving congressman, Jerry Nadler. Mr. Nadler, who sits with Mr. Mica on the House Transportation and Infrastructure Committee, is apparently no fan of the proposal, as evidenced by this statement from the Manhattan-based congressman
"I oppose privatizing the Northeast Corridor. While I appreciate and support efforts to expand high-speed rail service in this country, it remains to be seen whether or not this RFP will achieve that goal. The only thing that Congress authorized is the submission of proposals. There will be a rigorous review process, and Congress will have to take subsequent action to move ahead should any of the proposals be worthy. In the meantime, Congress should continue to increase investment in Amtrak, which has been chronically under funded and faces a multi-billion dollar backlog on the Northeast Corridor alone. I fully expect the incoming Democratic Congress and Administration to increase funding for Amtrak as part of a rational transportation policy and an economic stimulus package for infrastructure."
A spokesman for U.S. DOT said he couldn't confirm the content of the announcement.