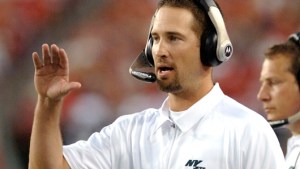 Outcoached. It's often a trite criticism; something to be cast off into the vast sea of sporting clichés alongside staying within yourself and taking it one day at a time.
But not here. And not for the Jets, whose agonizing 24-14 loss to a 4-8 49er team yesterday in San Francisco leaves many questions but yields one conclusion: They're one of the worst-coached teams in the league. Of course, neither that nor the full extent of their other problems figures to see the light of day during any of the Pravda-style press conferences sure to follow this week in Florham Park, but it's true just the same. And it needs to change.
Football, difficult though it may be, is not rocket science, and the game has been around long enough that true innovation is almost nonexistent. What happens on Sunday around the league has been done before, seen before, and stopped before.
And yet, because every team is outcoached on occasion, the temptation will be to overlook yesterday's manifest coaching failure in San Francisco, to dismiss it as an aberration. Problem is, it's becoming more than an anomaly. It's now obvious even to less astute observers, and it has to be particularly galling for a Jets franchise that went to New England three years ago to recruit Eric Mangini, the football equivalent of the son of Solomon. He was the boy-faced man who had served as prized protégé to the greatest football coach in the world, Bill Belichick. For 10 years, Mangini had watched him; venerated him; emulated him–all in the hope of becoming the next Bill Belichick. The Jets had taken notice, too, and when they tapped him as the 14th head coach in franchise history, it was in the hope and belief that he stood the greatest chance of any candidate to become the next Belichick or at least something close. To date, it hasn't quite worked out that way.
And if that wasn't clear previously, it was rammed home yesterday afternoon in San Francisco, where the Jets were thoroughly outclassed not by the genius of Bill Belichick or even the offensive mastery of Mike Shanahan but by interim head coach Mike Singletary, whose brief coaching tenure in San Francisco has been marked chiefly by a his attempt to seize the attention of his players by spontaneously pulling his pants down during a team meeting. These are the depths to which the team has fallen not two weeks after beating the Tennessee Titans in arguably the best regular-season win in franchise history.
The fault is not all Mangini's. The two main culprits are familiar faces in their own right: coordinators Brian Schottenheimer and Bob Sutton. More than any other mistake, it's been Mangini's reliance on the league's good old boy network that has been his undoing.
In truth, neither Schottenheimer nor Sutton has any business being an NFL coordinator. Schottenheimer is here because he has the right last name; Sutton, because he bears the imprimatur of Bill Parcells–the equivalent of three Michelin stars in the close-knit coaching ranks of the NFL. But with each passing game, it becomes clearer that both are better suited to being position coaches under a qualified coordinator and neither is up to the task of matching up with the better offensive and defensive minds around the league.
Schottenheimer has somehow managed to pair Brett Favre with two highly talented receivers and still come away with one of the more anemic passing attacks in the league. Add his often bizarre, self-defeating play-calling, typified by a plethora of third-and-short passing plays, wide-receiver screens designed to get three yards, and an assortment of high-risk, low-reward trickery, and you have yourself a competitive disadvantage of increasing significance.
In fairness, the Jets have scored plenty of points on the whole, but looking at both the players and the play-calling, it seems plain that this has more to do with personnel than with Schottenheimer. After sitting through yet another mess yesterday afternoon, one can't help but wonder how many more points they would have scored with a top-shelf coordinator.
Bob Sutton presents an even clear case than Schottenheimer, who, as noted above, at least has the saving grace of heading a team ranked near the top in points scored. In a town infamous for its result-oriented approach to all things, Bob Sutton seems an unlikely candidate to continue much longer as defensive coordinator. After 14 weeks and 13 games, Sutton's defense remains palpably clueless in pass coverage, repeating familiar mistakes and showing no apparent signs of progress.
Yesterday afternoon proved merely an extension of the misadventure, as the Jets were shredded through the air by a 49ers offense composed largely of castoffs, retreads, has-beens, and draft busts. Their lone star, running back Frank Gore, left the game for good early in the second half with a sprained ankle, but it wouldn't matter. The Jets allowed 49er quarterback Shaun Hill, who had managed to appear in all of four games over the past six seasons, to complete 72 percent of his passes for 285 yards and two touchdowns.
Time and again, the Jets were duped by the same shifts and close formations that Brian Schottenheimer had used to marginal success over the past two seasons. Doubtless, Sutton had seen similar formations in practice in 2006 and 2007, yet neither he nor his players appeared even remotely able to diagnose the problem, let alone solve it. They were as clueless in the fourth quarter as they were in the first. In fact, it soon became so glaring that even CBS commentator Phil Simms, never one to heap undue embarrassment on players or coaches, was forced to acknowledge the disarray, noting that the Jets were so confused as to their coverage assignments that two players often wound up inadvertently covering the same receiver, thereby leaving another player wide open.
This kind of nonsense would be intolerable under any circumstance, but the considerable talent in evidence on this defense makes it a travesty. The Jets have a formidable front seven, and even their comparatively weak secondary is home to cornerback Darrelle Revis and safety Kerry Rhodes, both of whom are likely among the league's top 10 players at their respective positions. The presence of Revis alone ought to be sufficient to shut down one half of the field. Add the fact that the Jets' stout run defense enables them to consistently force third and long, and it seems even more likely that they should excel in pass defense. There is simply no excuse for their continuing inability to stop even the most mediocre passing offenses.
The time has come to make a change. Not next week. Not next season. Not after it's too late. The time to make the change is now. It's high time that Eric Mangini dispense with his Potemkin Village and admit what is already plain to all: This defense stinks, and it won't leave the Jets with so much as a snowball's chance in hell come playoff time unless affirmative action is taken now.
Sutton needs to go. He was hired in the first place largely because of his ties to Bill Parcells, and he has failed to distinguish himself during his tenure. It's time for Eric Mangini to stop hoping that his affected air of calm will continue to be mistaken for competence. It's time for Eric Mangini to put his stamp on this football team.
Certainly, no one knows this defense any better than Mangini, who served not only as coordinator but also defensive backs coach in New England. He can fix this. He must fix this. The season depends on it.