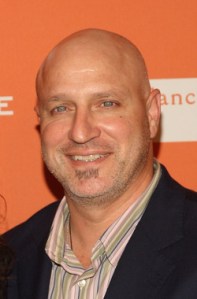 Celebrity chef and Top Chef judge Tom Colicchio is being sued by a former Craftbar waitress, Nessa Rapone, who's accusing the restaurant of inappropriately sharing her tips with some of the supervisors, withholding overtime, and occasionally failing to pay minimum wage, according to City Room. Also: The company allegedly didn't compensate her for the dry cleaning of her uniform. (Many upscale Manhattan restaurants that require uniforms will give employees a weekly allowance for the purpose of dry cleaning.)
When she complained about these things, she was fired.
In the documents filed, Ms. Rapone's lawyer, Justin M. Swartz, wrote: 
The Craft restaurants, all upscale establishments designed by well-known architects and catered by award-winning chefs, have earned Mr. Colicchio and his partners great success. This success, however, has come at the expense of the restaurant's hourly service workers to whom the defendants have denied proper minimum wages, overtime compensation, and tips they earned from customers. 
Tips at many of Mr. Colicchio's restaurants are pooled—meaning the management often collects everyone's tips and redistributes based on a point system. However, management at most upscale restaurants earn a salary and do not get to dip into the employees' tip pool.
Lawsuits by former waitresses at New York City restaurants—Justin Timberlake's Southern Hospitality, Mr. Chow's, Jay-Z's 40/40 Club—have been on the rise. And with Mr. Colicchio's increased celebrity status, it could just be a former disgruntled employee looking to cash in a tough economic time. 
Back in October, Mr. Colicchio told the Daily Transom that he was glad this recession is happening in the winter months.
"In this market, I find that going out to eat can be very comforting," he said then. "So it's a good thing that this is happening in the fall and winter because that's the time of comfort food—braised meats, roasted vegetables and stuff like that."