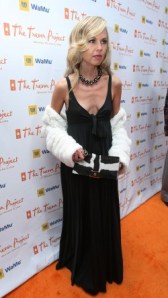 Sensitive celebrity stylist Rachel Zoe, who was spotted hanging around Art Basel Miami Beach last week, resurfaced at a Los Angeles fundraiser on Sunday. Maybe she'd simply fallen victim to the festival's catering cutbacks, but observers couldn't help but notice that the very slender Ms. Zoe was looking particularly angular in her low-cut, sleeveless black dress. Paired with the gown was a puffy white shrug that only served to draw attention to the increased tininess of her arms.
Of course, Ms. Zoe's eating habits (not to mention possible other routines) have long been the target of speculation. For her part, she's done very little to convince the public that she makes an effort to stay healthy. "It's not that I don't eat. I eat," she told Harper's Bazaar in August. She added: "I'm not a lady who lunches; it's a lull in the day."
Anyway, she should relax with a bowl of ice cream or something–her much maligned Bravo show, The Rachel Zoe Project, managed to get picked up for a second season.