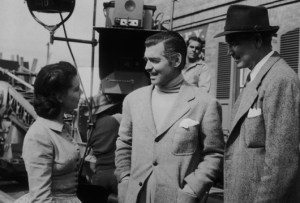 Victor Fleming: An American Movie Master
By Michael Sragow
Viking, 645 pages, $40
Once upon a time, movie directors had lives before they went into the movies. They fought in wars, they shot down enemy aircraft, they rode with Pancho Villa. They could field-strip a rifle, an engine or a woman, in any order that was necessary.
Once upon a time, there were directors like William Wellman, Raoul Walsh, Henry Hathaway and Victor Fleming—along with Michael Curtiz, the most overlooked first-rate director of Hollywood's golden age. But none of the others ever had a year like Fleming had in 1939, when he directed both Gone With the Wind (for the most part) and The Wizard of Oz (for the most part).
As Michael Sragow demonstrates in this long-overdue biography, Fleming didn't just make some great movies, he lived a fascinating life.
He was mentored by Douglas Fairbanks Sr. (a legendary swordsman of one kind), and the younger man became a legendary swordsman of a different kind entirely. Of course, irony rears its ugly head: Although he loved and slept with many beautiful women, from Clara Bow to Ingrid Bergman, Victor Fleming's marriage was to a woman he seems to have merely tolerated.
AS A DIRECTOR, FLEMING had all of Wellman's male aggression and knack for narrative, but he had something that Wellman and Hathaway lacked—a deep sensitivity toward vulnerable creatures, especially children: Treasure Island (1934), Captains Courageous (1937), The Wizard of Oz. And even Clark Gable, the randiest tomcat of his screen generation, was gradually moved by Fleming toward a very moving revelation of emotional devastation in Gone With the Wind.
Perhaps Captains Courageous best captures Fleming's peculiarly alchemical gift. Working mostly in front of an obviously artificial process screen with Spencer Tracy (a great, tortured actor who had no business getting anywhere near an accent but was using one anyway), Fleming somehow contrived to make a superb film through what can only be called emotional sincerity, with a death scene for Tracy that could wring tears from stone.
I don't think there's any question that Fleming went downhill after his annus mirabilis in 1939. Mr. Sragow launches a full frontal attack in favor of the Spencer Tracy version of Dr. Jekyll and Mr. Hyde (1941), and, against my better judgment, I'll give that to him because no movie featuring both Ingrid Bergman and Lana Turner at their ripest can be without interest.
But no amount of enthusiasm will ever convince me that Tortilla Flat (1942) isn't grotesquely miscast and studio-bound—MGM at its worst. A Guy Named Joe (1943) has some lovely scenes, and it could have been even better if MGM had stuck to the astonishing original ending that Mr. Sragow has unearthed. (Irene Dunne commits kamikaze suicide in order to be with the dead Spencer Tracy!) Adventure (1945) isn't much better than Tortilla Flat, and Joan of Arc (1948), Fleming's last picture, is every bit as dismal as its reputation indicates. Aside from some beautiful color photography by Joe Valentine and Winton Hoch, it's a dead loss, playing like a very bad Cecil B. DeMille movie.
That run of films doesn't indicate that Fleming was heading into a flourishing third act before his premature death. Indeed, working, however restlessly, at one studio for 15 or 20 years was not calculated to breed anything other than a crippling dependence on all the technical departments that the major studios offered. Most of the men who spent that long at either MGM, Fox or Warners ran out of steam when the times mandated they go into independent production. I suspect that had he lived, Fleming would have followed Clarence Brown into disaffected retirement in the early '50s.
MR. SRAGOW'S BOOK IS impeccably researched (full disclosure: I supplied him with some material on MGM), and he writes with the vivacity and knack for the piercing phrase ("Gable is part id, part kid"; "Gone With the Wind would never have become the resplendent thing it is without Selznick, but it never would have found its voice—its bark and its bite—without Fleming") that has always marked his criticism. There's no question that he fell in love with his subject, and the book is crammed with detail that isn't necessarily irrelevant but is nonetheless extraneous. Fleming's newsreel photography, for example, takes up pages when it should take up paragraphs. To spend 30-odd pages on The Wizard of Oz (and, miraculously, come up with new material) is good sense; to spend 13 pages on insipid studio product like Test Pilot (1938) is a waste of trees.
But even with the padding, Michael Sragow's Victor Fleming is as much of a contribution to the literature of the movies as its subject was to the movies themselves.
Scott Eyman reviews books regularly for The Observer. He can be reached at books@observer.com.