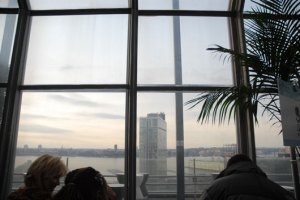 A short, stocky man with a shopping bag full of swag sauntered up to the Hotel Gansevoort's 15th-floor rooftop bar on Saturday afternoon. A bit wobbly and bordering on belligerent, he was wearing headphones. And yelling. A busy bartender, nonetheless, poured him another complimentary Peroni.
He said his name was Eliot and that he worked at Fox News. "Dude, I just talked to Karl Rove on my fucking phone," he shouted. "You think I'm fucking with you? Mike Huckabee called me, like, three hours ago. Dude, I'm the most brilliant of the brilliant."
Mr. Brilliant was one of scores of freeloaders on hand for the second annual meatpacking district block party, sponsored by Details magazine, with nearly 50 neighborhood businesses, from Diane von Furstenberg to YOYAMART, offering discounts to shoppers and free drinks to all comers.
The Hotel Gansevoort served as the official party hub. The lines for free back rubs and free haircuts wrapped halfway around the rooftop pool.
It seemed the perfect setting. Centrally located smack in the middle of the Gansevoort Market Historic District, right across Ninth Avenue from the pioneering neighborhood restaurant Pastis, the modish 14-story lodge, with its steely facade and clubby purple lights, has stood since 2004 as a glaring beacon of the ever-gentrifying area.
Perhaps no place better symbolizes what the modern meat market has become. In standoffs with the community over noise and offensive billboards, the Hotel Gansevoort has clearly established itself as that loud obnoxious neighbor with fashionable aims yet questionable tastes.
But, nowadays, looking out on the area from the hotel rooftop, you can't help but notice the much bigger, badder building looming ominously on the horizon and wonder if the entire neighborhood might be moving right out from underneath it.
"The meatpacking district is about to shift 500 feet to the west," predicted Richard Born, the Hotel Gansevoort's landlord.
Mr. Born was talking about the forthcoming arrival of the Standard New York, hotelier André Balazs' ambitious 18-story, 337-room lodge, erected on pillars over the elevated High Line park at the corner of Washington and West 13th Street, less than two blocks away.
Standing four stories taller and with nearly double the room capacity as the Hotel Gansevoort, with a beer garden, a pool and two restaurants, the hugely hyped Standard threatens to depose its barely four-year-old neighbor as the area's trendiest hub.
"I think it's going to be ground zero of the meatpacking district," Mr. Born said of the new hotel, which is scheduled to open up to 150 guests rooms later this month, with the goal of becoming fully operational by spring.
"There's no way in the world it's not going to be hugely successful," added Mr. Born, who comes from a rather unique perspective on the area's changing hotel landscape. In addition to owning the Hotel Gansevoort property, which he leases to developer and operator Michael Achenbaum, Mr. Born is also a partner with Standard builder Mr. Balazs in the popular Mercer hotel in Soho. He further co-owns and co-operates two smaller inns, the Maritime and the Jane, located a few blocks north and a few blocks south, respectively, from the two rival hotel towers.
ONLY A YEAR AGO, the combined synergy of four stylish hotels located in such close proximity would seem entirely justified. Demand for hotel rooms in Manhattan had never been higher, with nightly rates and occupancy levels reaching record levels. Now, amid receding numbers of tourists and business travelers and otherwise widespread economic chaos, it's beginning to resemble a glut.