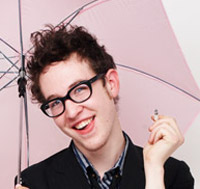 And starting this week, Gawker writers will have to start weekends.
Gawker.com's managing editor Gabriel Snyder wrote in a note to his staff that each writer would be required to edit the Web site on Saturdays and Sundays , on a rotational basis. "This person will be responsible for posting beginning at 10am and doing at least six posts on Saturday and then at least four on Sunday, also starting at 10am," he wrote. "These are both designed to be half-day posting loads, but the news editor will be responsible for keeping on top of news as it breaks throughout the day, so don't plan on wandering too far away from your computer. As a comp day, you will get the Friday preceding your shift off."
In addition, for those writers who aren't required to edit the Web site that weekend, they are expected to contribute three posts in advance that can be rolled out on Saturdays and Sundays.
The news hasn't gone over well at Gawker.
"I was bitching about it," said Alex Pareene, one of Gawker's day editors. "Everyone is upset about it."
Starting in January, the pay-per-pageview model used to compensate each Gawker writer will be supsended, according to Mr. Pareene. Writers will rely on a regular salary, so they won't be able to benefit financially by driving in big traffic numbers during their working weekends.
"They just laid off Sheila," he said, referring to Sheila McClear, who was let go earlier this month. (Ms. McClear contributes to The Observer as well.) "If you want a 24 hour Gawker running, set aside the resources to keep it running for 24 hours."
Gawker has been in need of a new weekend editor ever since Ian Spiegelman left. The former Page Sixer apparently wasn't too pleased with the upcoming page view-pay model freeze.
Nick Denton, for his part, said that the weekend plan is "nothing new," and that in the first half of the year, while he was managing editor, he would regularly contribute during weekends, and so would his staff.
Mr. Denton said he'd also be on the rotation for Gawker's flagship site, and said he thinks it "sucks."