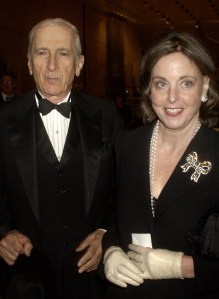 At the Taleses' annual Christmas Eve dinner party tomorrow night, Nan Talese will be serving her favorite: Francis Ford Coppola's Sauvignon Blanc and Merlot to complement the white-wine-and-lemon chicken and tender filet mignon.
Until 2001, the couple attended an annual holiday party on East 64th Street thrown by their dear friend, Serpico author Peter Maas and his wife, Suzanne. But when Mr. Maas passed away two weeks before Sept. 11, 2001, Mr. and Mrs. Talese volunteered to move the gathering to their own four-story townhouse on East 61st Street, and invite the Maases' guests as well as a few of their own. This year, the guest list has grown to an intimate 150.
"The idea of the party grew out of the fact of a mournful city and the death of a person who had been a friend of ours for maybe 25 years before that. So the first party here was a memoriam and a festive night, but in response to the loss of lives in the city and Peter Maas. And it continues that way," said author Gay Talese, speaking to the Transom by phone from his Upper East Side home.
While the death of a friend and the shock of Sept. 11 dwarfs anything that might happen in the current recession, the bleak mood that has returned to the city on the heels of the crisis in banking makes this one feel, once again, a necessary tonic.
"In my own wife's company—hell, you've read about it—fellow editors lost their jobs," he said, referring to extensive layoffs at Doubleday this fall. "There are many people who have experienced this year what the nation and the city have experienced. And yet this night is a night not to dwell upon that; to be aware of it, but not to dwell on it."
And so on Dec. 24, sometime around 6:30 p.m., the couple's friends and colleagues—editors, writers, filmmakers, actors, artists and financiers—will walk up the spiral staircase of the townhouse and be greeted with a cocktail on the parlor floor. There will be sherry and bourbon and martinis and wine. With drinks in hand, the guests will mingle by the Christmas tree in the library or in the 60-foot-long enclosed greenhouse in the back or maybe somewhere upstairs among the taupe walls and the Frank Stellas and the pale blue velvet and leather sofas.
"There is a whole selection of people and you never really know who's going to show up, but there generally seem to be the same people year after year," said Mr. Talese. "It's a New York evening for us. We've been in New York for 50 years and we know a lot of people—people who you might see at Elaine's." (This was Mr. Talese's only concession to our request that he name some of the regulars. But it gives a pretty good picture.)
Around 8:30, dinner will be served on the second and third floors by nine or so waiters, who will weave their way between tables set for four, six, eight and ten (covered in green, red, and white tablecloths) and try to avoid tripping on the two Australian terriers wagging through the crowd. The seating isn't formal: some guests just stop in for a cocktail before heading home to have dinner with their families and others arrive on the later side for dessert and an after-dinner drink. "A Christmas dinner open house," Mr. Talese called it.
He himself doesn't pay much attention to the menu.
"You're not talking to Frank Bruni here. I'm not a food guy, that's one of the things I don't pay much attention to," he said. Mr. Talese said his wife would know better, but he was hesitant about asking her.
"My wife is not in on this. If I go down and ask her for the menu, she might say, 'Don't put it in the paper,'" he confessed. Mr. Talese thought about it for a moment. "I tell you what, let me see if I can get the name of the caterer without having to ask my wife. Maybe the housekeeper knows."
He hung up. A moment later Mr. Talese called back and placed his wife on the phone.
"He doesn't have a clue!" said Ms. Talese in reference to the menu, which she willingly relayed. (Roasted vegetables, lentils, salad, cheese and the aforementioned main courses.)
The Taleses' five-decades-long marriage is the subject of Mr. Talese's upcoming book, which will also prominently feature the couple's residence, where they've lived for the duration of the marriage.
Mr. Talese rented an apartment in the building when a friend, a gossip columnist named Joseph Dever—who was a colleague of a then gossip newbie from Texas named Liz Smith—asked if he would like to sublet his place. (Ms. Smith and Mr. Dever at the time contributed to a column titled Cholly Knickerbocker that appeared in the Hearst newspaper chain.)
Mr. Dever was moving into a bigger place and offered to sublet his apartment in the building to Mr. Talese, who was then living on MacDougal Street. "One of the tenants when I first moved in was a fashion model who was having an affair with Otto Preminger, the movie director, and I'd see him in the steps ringing the bell of this beautiful model," recalled Mr. Talese. "Her name was Hope Bryce and she later married him and moved out."
After Mr. Talese got married himself, he and Ms. Talese rented each apartment in the building one by one until eventually taking over the entire building and converting it back to a single-family, four-story home where their two daughters were later born. On Christmas Eve, the house will be filled to capacity with the many people the couple have come to know over the years—a tradition the couple wouldn't think of canceling. 
"The theme is hope and friendship and optimism and a happier year ahead. We don't cancel. As long as we're alive, we're going to have this," said Mr. Talese. "Fortunately, we can still pay for it. No sense in cutting back now."