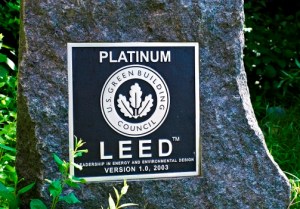 So, you don't have a job. Could you get one by being green?
In the last year, the U.S. Green Building Council has held two green jobs fairs in New York for would-be sustainable designers and the businesses who want them, drawing about 300 people each. At the third, held last Friday at N.Y.U.'s Palladium at 140 East 14th Street, 400 people signed up with walk-ins pouring through the doors. Rather than the fresh-faced undergraduates of yore, many of them were looking for their second job, or their third. And quite a few didn't have much green experience at all.
Take one reedy graduate of New York Law School, who expanded her job search after realizing that landing a position with a traditional developer was looking increasingly unlikely. Now, she follows up on every lead she gets.
"I was always planning on coming to this event, but I thought that I'd have a job by now, and I could be making connections for my company," she said.
Or take Viktoriya Gilvand, 28, a slim blonde recently graduated from Brooklyn College with a business degree. "I was planning on going into finance," she said, with a what-can-you-do shrug. Green business is the next best thing, and she hoped a company would put her through any extra training she needed. "It's very honorable. I think that it will be a great opportunity."
Tom Fitzharris, a middle-aged Web site manager, was laid off from a TV company in January, and has been looking ever since—the green jobs fair is just "one of the 20 things you do every week."
And even some fair-goers were refugees from the crash: A representative for CoreNet, a real estate industry association, had recently been head of commercial real estate at Morgan Stanley. "It's one of those things you have to know about," he said of green business.
GREEN TRAINING IS OUT there. Besides the burgeoning number of undergraduate and graduate programs tailored to sustainability—the New School just launched an environmental studies program, for example, and Columbia has a new master's in sustainable development—the New York State Energy Research and Development Authority has a slew of courses in renewable energy, and pretty much anyone can study for and pass the LEED Accredited Professional test, which is like the LSAT for green architecture.
The Green Building Council declined to release statistics on those enrolled in its own LEED AP courses, but they are reportedly a revenue-generator for the organization.
Uniformly, the firms and nonprofits at Friday's job fair reported a sizable bump in applications in the last few months, coming from a wider variety of sources. "This has exploded," said Jen Preston, 30, representing a seven-person boutique architecture firm looking to double its size in the new year. Ms. Preston herself recently emerged from Columbia's graduate architecture program, and knows that not all of her classmates were so lucky. "I'm hyper-aware of the fact that a lot of [the people in the room] don't have jobs right now," she said.
The green-business application surge has arisen against the backdrop of a new wind out of Washington, where President-elect Obama has been announcing new job programs left and right. Much of the buzz surrounds the new "green-collar workforce" that will—in theory!—help yank the U.S. out of recession.
"That part of it is tremendously exciting," said Max Joel, 27, a more conventional enviro-job seeker who will graduate in 2010 from the Yale School of Forestry. "It's a good position to be in. Hopefully, there won't be enough jobs for us to fill."
But for the 400-plus people at the Palladium on Friday, there certainly weren't enough jobs to go around. Most firms were hawking between five and 10 positions, if that.
Optimism, as ever, springs eternal.
Penny Hu, a cheerful 25-year-old market analyst, has been working as an SAT tutor in between jobs. "My analysis will fit in somewhere. Everyone has to put together a budget!" Does having experience in green market research help her résumé? "Yes, definitely. Because I believe in it as well."