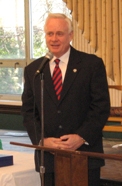 ALBANY—The case of Hiram Monserrate is dividing the State Senate.
Seven legislators have signed onto a resolution by State Senator Marty Golden, a Republican from Bay Ridge, which calls on Monserrate to not take his seat in the chamber until he clears up charges that he beat his girlfriend with a bottle.
(Monserrate pleaded not guilty to those charges and claims his girlfriend was injured in an accident.)
"If he clears his name, he sits in the conference," Golden said. "Let's make sure the people we are putting in government and on the bench are people of caliber and don't have accusations before them."
I asked Golden if that was hypocritical given other legislators of both parties who have served with criminal charges pending. He said this is different from those cases, because it is a violent felony charge, not a more white-collar charge.
Many Democrats have grumbled about the charges against Monserrate, privately. State Senator Malcolm Smith, leader of the chamber's democrats, is counting on Monserrate's support to become majority leader. He has not substantively commented on the situation.
But State Senator Eric Adams said he'll give Monserrate "the benefit of the doubt." I asked him whether he would sign Golden's resolution.
"It's a stupid resolution and it's an insult to the victims of domestic violence that he would try to play with this and politicize and issue that his conference has been weak on," Adams said. "That's smacks straight at the face of our criminal justice system. A person is innocent until proven guilty. A case could take up to year. Do we allow his district to go without a representative until then?"
Golden fired back, saying "there's no such thing as innocent until proven guilty here – we're not putting him in jail, we're just asking him not to sit in a body that is as esteemed as the State Senate."
According to Golden's office, State Senators George Maziarz, James Seward, Charles Fuschillo, John Flanagan, Betty Little, Cathy Young and Bill Larkin have all signed on. All are Republicans. Cathy Young issued a statement when she announced she had signed on, calling the charges against Monserrate "disturbing."
Monday, a Monserrate spokesman reiterated that he was planning to serve.